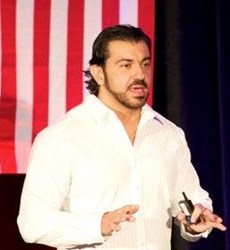 I was personal trainer first and foremost, but when it came to business smarts, I admit, I was a rank amateur...
Chino Hills, CA (PRWEB) August 29, 2013
Owning and operating a personal training business is no easy task, especially in today's economy. That is one of the reasons why Bedros Keuilian, the fitness marketing expert behind the popular blog PTPower.com, wanted to launch Fitness Studio Formula.
Keuilian says that he created Fitness Studio Formula to help fitness trainers and entrepreneurs who are wanting to branch out and open a fitness center or start a personal training business but are not sure of how or where to begin.
"I was personal trainer first and foremost, but when it came to business smarts, I admit, I was a rank amateur. And worse, there was no one in the fitness industry who was teaching the art and science of how to build a profitable and sustainable personal training studio," says Keuilian, when thinking back on his years as a personal trainer. "My point is to impress upon personal trainers out there that I've spent years in the trenches, and I've successfully created and sold personal training studios and I can help every personal trainer out there do the same."
Fitness Studio Formula teaches personal trainers the steps it takes to open a studio, dominate their specific market, and earn six or even seven figures with their fitness business. The comprehensive new fitness business blueprint includes a collection of business, marketing, and legal courses that teach personal trainers everything they need to know to set up and start profiting off their new business.
Fitness Studio Formula features an in-depth look at the challenges that most personal trainers face and how to overcome them. The most common issues that personal trainers have when contemplating how to start their own fitness studio are money, time, and not knowing which business aspects to focus on first. The thought can be overwhelming for most personal trainers, but the Fitness Studio Formula course considers everything that a personal trainer might have trouble with and shows them how to push through their limitations and grow their business to six and seven figures in just 12 months.
"I know there's a huge fear factor that confronts a lot personal trainers who want to start a personal training studio. Every fitness entrepreneur faces the same fears; starting a studio takes too much time, it takes too much money, there's too much risk," says Keuilian. He explains, "And that's exactly why I've created Fitness Studio Formula, a total step-by-step program for trainers who are ready to create a massively successful personal training studio."
The program is complete with "done-for-you" marketing material, sales scripts for selling personal training, and presentations for personal trainers to hit the ground running. Fitness Studio Formula is a fool-proof blueprint for starting a wildly successful personal training studio. "I added $172,800 to my facility's annual revenue," says Joshua Carter, of Carter Fitness.
About Bedros Keuilian
Bedros Keuilian is a successful fitness entrepreneur and longtime fitness marketing and personal training sales expert who has helped thousands of personal trainers worldwide grow their personal training businesses. He is also the founder of the company PT Power and President of the fitness boot camp franchise Fit Body Boot Camp. To find out more about Bedros Keuilian, his Fitness Studio Formula, or Fit Body Boot Camp, please visit http://www.fitnessstudioformula.com/ and http://www.myfitbodybootcamp.com.