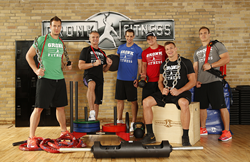 The Gronkowski family is all about excellence, and we think the same way at G&G Fitness Equipment, so ... we're thrilled to partner with FitnessOnDemand, a true leader in the world of digital fitness content and virtual experiences."
MINNEAPOLIS (PRWEB) April 13, 2021
As part of a new agreement, one of the country's most successful fitness equipment suppliers, G&G Fitness Equipment and Gronk Fitness will begin offering FitnessOnDemand technology products to commercial customers, effective immediately. The deal, announced this week, comes as part of FitnessOnDemand's ongoing partnership with regionally-based market-leaders that can provide club and gym customers with additional in-market retail and product support offerings.
"Everyone who enjoys pro football knows the Gronkowski name – they're a sports dynasty," says Armin Krienke, Director of Business Development, FitnessOnDemand. "The G&G Fitness Equipment name – started by the Gronkowski brothers – is just as synonymous with premium fitness equipment, unmatched customer service and in-depth industry knowledge in all of the markets the business serve in the North East and Midwest. We are delighted to bring that level of product expertise and localized support to our club and fitness facility customers on their own doorsteps – and to welcome G&G to the FitnessOnDemand family of partners."
G&G Fitness Equipment was originally founded in 1990 by brothers Gordon "Gordy" and Glenn Gronkowski. Today, under Gordy's leadership, G&G operates a network that covers eleven states including New York, Pennsylvania, Ohio, Maine, Massachusetts, New Hampshire, Vermont, Kentucky, Indiana, West Virginia and Michigan. The company provides premium brand fitness equipment and hundreds of specialist accessories to both commercial and residential customers. Over the years G&G has installed equipment in more than 1,000 gyms including corporate-, college- and K-12 facilities, team sports venues, country clubs, hospitality venues, personal training facilities, police and fire stations, community recreation centers, medical facilities, health clubs and multi-family housing developments. In each market G&G serves, the company has become the most knowledgeable, largest equipment dealer and support specialist. Equipment brands represented include: Life Fitness, Hammer Strength, Cybex, Sci Fit, ICG, Echelon, True, Octane, Spirit, Troy Barbell, Gronk Fitness, Prism, TRX, and Thor Performance Products.
"The Gronkowski family is all about excellence, and we think the same way at G&G Fitness Equipment," says Lisa Johnson, Marketing Director, G&G Fitness Equipment. "We've built a brand dedicated to the best equipment and unrivaled customer support. We proudly represent the most respected brands and innovative partners in the fitness industry, so we're thrilled to partner with FitnessOnDemand, a true leader in the world of digital fitness content and virtual experiences."
G&G will work with commercial fitness facilities to help them select, specify and install the FOD system right for them. Whether clubs are using stand alone, touch screen kiosks, TV's, flat panel displays or entire video walls to display curated FitnessOnDemand content. FitnessOnDemand curates and now offers more than 1,000 premium classes, workouts and wellness content from the world's leading fitness experts, celebrity trainers and instructors.
For more information on FitnessOnDemand visit: http://www.fitnessondemand247.com.
About FitnessOnDemand (http://www.fitnessondemand247.com)
FitnessOnDemand is a global leader in the collection, curation and provision of high-quality, premium digital fitness content from some of the world's leading names and experts in personalized fitness. The company is the only provider of Omnichannel content in the fitness industry, meaning customers can experience branded content via mobile app, smart device or in-club and in-room installation. FLEX by FitnessOnDemand enables clubs to offer their members the same, seamless library of fitness and wellness content anywhere in the club, at home or on the go. This allows operators to build member loyalty and brand-affinity beyond the club walls. FitnessOnDemand is a leading provider of digital fitness to many industries including health clubs, premium residential and business property developers and leading, luxury hotel chains. Content creators include Jillian Michaels, SH1FT, Sweat Factor, Zumba & Strong by Zumba and many more.
About G & G Fitness Equipment (http://www.livefit.com)
Founded in 1990 by Gordy and Glenn Gronkowski, G&G Fitness Equipment is one of the country's leaders in premium fitness solutions for commercial and residential needs. The company serves residential and commercial fitness facility customers across ten states, supplying premium brand treadmills, elliptical, strength, and cardio equipment plus hundreds of accessories to customers in the club, hospitality, education, corporate, medical, community recreation and personal training industries. Services include consultation, installation and unmatched service and product support.