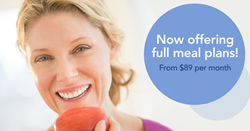 Vancouver, British Columbia (PRWEB) December 22, 2014
Fitness on the Go introduces nutrition counseling for their clients.
"Nutrition is such a large component of living a healthy lifestyle. This has been long overdue for us, but we wanted to make sure we could provide exactly what the clients need, not just a gimmick," states Dan Mezheritsky, President of Fitness on the Go. Fitness on the Go has found experts that have created a software for them using registered dieticians who have carved out each variation of the plans they provide. Not only will Fitness on the Go provide a meal plan, they will have a trainer or nutrition counselor follow up with weekly phone calls to ensure the client is staying on track.
"The most important difference we have always been able to provide our customers is the motivation and accountability they cannot get without our service, and when introducing this new product we had to add the service element to stay in line with our values for providing customers the motivation and accountability they have come to expect from us." Mezheritsky says. "I'm excited that we can provide this solution for clients now and look forward to seeing the positive impact this will add."
For more information about Fitness on the Go's new meal plans, visit http://fitnessonthego.ca/index.php/meal-plans/.
Fitness on the Go has serviced over 6500 clients to date and is Canada's largest in-home personal training brand with over 100 personal trainers across the country, servicing over 30 cities. Fitness on the Go will not only send a certified in home personal trainer to a client's home to help them get fit, but will work with them to develop a customized fitness plan that will help them reach their goals. No equipment is needed — the only requirements are some floor space, 60 minutes, and a positive attitude. Fitness on the Go operates as a fitness franchise and fitness franchise opportunities are available in select cities in Canada and the US.