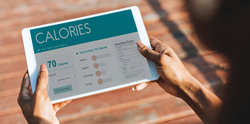 DENVER (PRWEB) February 12, 2020
No more staying away from your favorite snacks to lose weight. Those struggling to find the perfect way to manage weight issues can finally heave a breath of relief. Leading fitness blog FitnessVolt has recently launched a new cutting-edge Macronutrient Calculator that assures to help lose or gain weight the right way. It caters to both those who want to lose weight and those wish to gain weight to improve their physique.
This new advanced Macro Calculator unlocks the right way to lose or gain weight
Claimed as the Best Macro Calculator, the calculator follows the diet principles of IIFYM or flexible dieting. Unlike regular diet programs that strip your plate of carbs and calories, IIFYM does not impose a ban on any particular food. In fact, it enables you to indulge in cheat meals as well, provided you are mindful of the amount of intake. This is where the FitnessVolt Macro Calculator comes in.
"Our next-gen macro calculator supports flexible dieting. It is not exactly practical to prohibit certain food groups as it will only lead to cravings and eventually over binging. With the flexible dieting plan supported by our calculator, you will be able to enjoy all the groceries and still lose weight. You would only need to be aware of how much grams of food from each food group you can take per day and our macro calculator will show you the perfect dosage for you," stated a leading spokesperson from FitnessVolt.com
The calculator starts by calculating your TDEE (Total Daily Energy Expenditure) based on your gender, age, weight, height and activities. The next step is about choosing your goals, i.e. whether you want to gain weight, lose or maintain weight. You will also be allowed to pick your intensity level in fulfilling your goals. In the third step, you will choose your nutrition plan where you will pick your daily dosage of carbs, protein and fat. Based on all these metrics, the FitnessVolt Macro Calculator will calculate and find out the ideal portion of carbs, fiber, protein and calories that you must take per day.
The calculator will also show you how many meals you should have each day and how many grams of each food group you must have per day and per meal.
The FitnessVolt Macro Calculator is not just about finding the right calories to lose weight. It also shows the calorie deficit in underweight people and suggests them the intake of right dosage of calories to help them gain a healthy weight. Users will be able to specify whether they need calculation for overweight issues or lean weight issues in the first step while the calculator calculates the TDEE.
"You need to ensure 'perfectly sized' macronutrient percentage for effective dieting. And our Macro Calculator would be the best aide for you here. It will not only show you the ideal dosage of each nutrient to lose weight but will also reveal your calorie deficiency which you will need to overcome to gain weight. If you wish to maintain a dream physique, count on our Macro Calculator."
For more, please visit https://fitnessvolt.com/macronutrient-calculator/
Media Contact:
Tom Miller
Denver, CO, USA
Email: sm@fitnessvolt.com
Tel: 2019480127