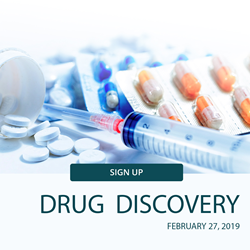 YORBA LINDA, Calif. (PRWEB) February 22, 2019
LabRoots, the leading scientific social networking website, offering premier, interactive educational virtual events and webinars, will be hosting its 2nd Annual Drug Discovery Virtual Event on February 27th, 2019, featuring novel strategies for drug discovery, effective tools for drug development, and innovative approaches in clinical trials.
At this year's event, the advancements, challenges and successes of discovery and development of new medications and therapies will be discussed. The hot topic of aptamers, as a cutting edge solution to the development of novel drugs, will be a central theme among our speakers. Other tracks topics will include presentations on next-generation in silico technologies, artificial intelligence, well-designed in vivo studies, basket trials, biomarkers, and much more.
"This year we are collaborating with twenty-two speakers, bringing a wide-array of knowledge, from academia to industry, to our users," says Tracy Salcido, Vice President of LabRoots, Inc. "With this number of experts, there will be something to take away for everyone surrounding key drug development and discovery subjects."
Speakers from around the world will be collaborating with LabRoots to bring the latest in the developments in drug discovery. These speakers include, Frank McCormick, PhD, Professor of the UCSF Helen Diller Family Comprehensive Cancer Center, whose keynote presentation will speak to second harmonic generation for structural insights, G. Thomas Caltagirone, PhD, President & CEO, Aptagen, LLC, revealing what's next in aptamers in diagnostics and drug discovery, Mark Hellewell, PhD, DISCOVERY Reagent & Training Lead, Companion Diagnostics (CDx) & DISCOVERY, Roche Tissue Diagnostics, speaking to multiplex technologies, to name a few. For the complete list of speakers, click here.
"The planning committee has orchestrated talks relevant to researchers working in both industry and academia from diverse disciplines related to Drug Discovery, Drug Development and Clinical Testing. I am very excited about the level of enthusiasm we have received from stellar speakers and sponsors for this unique conference", said Annette Gilchrist, Planning Committee Chairman. "On behalf of the committee we look forward to bringing together innovative leaders from all facets of drug development and discovery in an online global forum to provide insights, practical tips, and explore the challenges scientists are currently facing."
Like all LabRoots events, participants can earn free continuing education credits. Following each presentation, viewers can click on the educational credit link provided for that specific speaker and follow the required process. Upon completion, you will receive a certificate for the educational credit.
For more information or to register for the event, click here. Participants can join the conversation online by using #LRdrug.
About LabRoots
LabRoots is the leading scientific social networking website, offering top scientific trending news and premier educational virtual events and webinars. Contributing to the advancement of science through content sharing capabilities, LabRoots is a powerful advocate in amplifying global networks and communities. Founded in 2008, LabRoots emphasizes digital innovation in scientific collaboration and learning. We have become a primary source for trending scientific news, webinars, virtual conferences and more. Offering more than articles and webcasts that go beyond the mundane and explore the latest discoveries in the world of science, LabRoots users can stay atop their field by gaining continuing education credits from a wide range of topics through their participation in the webinars and virtual events.