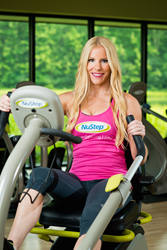 Fitz and I have worked on finding a company that she can truly support and use her experience in educating millions on the benefits of their products across all types of boundaries and needs. - PMG Sports CEO Evan Morgenstein
Cary, NC (PRWEB) July 23, 2015
Celebrity Trainer and Health & Wellness Expert Fitz Koehler has signed a new partnership to join the NuStep team as a celebrity spokesperson and lead developer on new fitness programs utilizing NuStep exercise equipment. Koehler has become a global thought leader in the fitness industry through her engaging online video content, television work and bestselling core training DVD.
"I couldn't be prouder to work with this world-class company of products made in the USA," said Koehler. "What I love most about the NuStep is that it's perfect for nearly every client I've ever trained. It offers a fierce total body workout for my elite athletes, or a gentle option for my injured, ill or elderly crew. I call it the 'ultimate excuse-buster.'"
Koehler has worked in the fitness industry for over 20 years specializing in fitness education via mass media and fitness programming for children such as The Morning Mile® before-school running/walking program. She will assist in the development of fitness programming for NuStep's other celebrity spokespeople including 7-time Olympic Medalist and celebrity mom Amanda Beard, The Biggest Loser contestant O'Neal Hampton and several others.
Koehler has continued to build her visibility through regular appearances as a fitness expert on major networks including ABC, CBS and NBC. In addition to this new partnership with NuStep, Koehler has worked with several other industry leading brands such as Oakley, Disney and PepsiCo.
PMG Sports CEO Evan Morgenstein said, "Fitz and I have worked on finding a company that she can truly support and use her experience in educating millions on the benefits of their products across all types of boundaries and needs. NuStep's products embody the perfect blend of superior workouts for any age, physical ability and/or disability. The company is truly a leader in the industry."
For more information on how to hire Celebrity Fitness Expert Fitz Koehler for appearances or sponsorship opportunities contact Evan Morgenstein at evan(at)pmgsports.com or call (919)459-5426. For media inquiries please contact Matt Uberseder at matt(at)pmgsports.com or call (919)459-5428.
About Premier Management Group (PMG Sports)
Premier Management Group is an elite sports marketing agency with the goal to create a space in the industry that is completely unique through superior creativity and innovation. PMG Sports aims to provide each client with the same level of professional representation and service. Additionally, PMG Sports is an industry leader in providing corporate consulting services. Each client, whether athlete or corporation, is treated with an added personal touch.