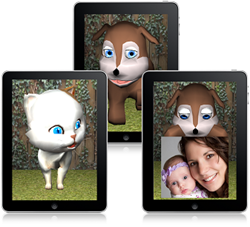 The GeriJoy Companion is the greatest advance in dementia care that I have seen in my career.
Vancouver, BC (PRWEB) April 28, 2014
These days, the word 'technology' often brings to mind consumer products and services that are quickly adopted by younger generations but are not always accommodating to all demographics. Nevertheless, according to Ernest Quansah, President of Five Star Senior Services, technology can be made fun and easy to use for people of all ages – even for seniors with Alzheimer's.
"The GeriJoy Companion is the greatest advance in dementia care that I have seen in my career. It's a fantastic new tool that improves quality of life for both older adults and caregivers, without the frustrations that typically come with figuring out new technology," says Quansah.
GeriJoy was founded by MIT researchers to improve quality of life for seniors and caregivers through friendly technology. The GeriJoy Companion, their flagship service, is a virtual pet and companion for the elderly that is available 24/7 and is supported by GeriJoy's worldwide team of remote care staff. GeriJoy's staff guide the pet's speech to provide seniors with the experience of having an always-available companion that can talk with them about family photos and other information from the Internet.
GeriJoy has been recognized by organizations like AARP, TEDMED, and the US Senate as a leading innovator in senior care, and has documented benefits in care situations ranging from family caregiving to private-duty home care, assisted living, and skilled nursing dementia care.
Because the GeriJoy Companion is represented by an adorable pet, and is supported by GeriJoy's team of remote care staff, older adults can interact with the GeriJoy Companion themselves, just by talking naturally, and with minimal help from caregivers.
According to Quansah, the GeriJoy Companion is a great complement to traditional care services, serving a similar role as a helpful family member who is always around to help provide companionship and oversight. This helps to not only reduce loneliness and improve mental health for seniors, but also to reduce stress and provide peace of mind for family members and caregivers. The GeriJoy Companion is also capable of asking seniors friendly, day-to-day questions about health and behavior, and interfacing with doctors and nurses to help them better mitigate risks such as heart failure, respiratory issues, and depression.
For a limited time only, Five Star Senior Services is offering complimentary GeriJoy service to new clients. Ernest Quansah is available for press, radio or TV interviews to discuss and to demonstrate how this simple and highly effective technology works.
Ernest can be contacted by email at ernest(at)fivestarseniorservices(dot)com or by calling 1-604-616-8401. To find out more, please visit http://fivestarseniorservices.com and click the "Dementia Care" link on the top menu.