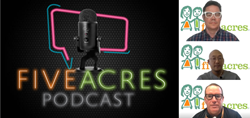 "We will be discussing a range of issues that affect families who are involved in adoption and foster-care. We hope the podcast will be a source of information and relief for people knowing they are not alone in their struggles, especially with these uncertain times," said Adam Haynes, podcast host.
LOS ANGELES (PRWEB) March 18, 2021
Five Acres is proud to announce the launch of Southern California's first in-house agency-produced podcast program designed to provide inspiration, motivation, and concrete action steps for families struggling with issues related to adoption, residential care, and mental health. The first two episodes of the podcast, which focus on mental health – a major public health issue that has worsened with the ongoing pandemic, is now streaming on both Apple and Android apps, and wherever you stream your favorite podcasts.
"I am thrilled to be joining my two co-hosts and colleagues, Brandon Ito and Jake Cashill, on Five Acres' new podcast platform," said Five Acres podcast co-host and trainer of evidence-based practices Adam Haynes. "We will be discussing a range of issues that affect families who are involved in adoption and foster-care. We hope the podcast will be a source of information and relief for people knowing they are not alone in their struggles, especially with these uncertain times."
Each episode of Five Acres podcast will focus on a particular topic that will be discussed in a half hour format. The episodes will feature special guests who are licensed clinical professionals in the fields of adoption, foster care and mental health, and will conclude with the "Five Acres Five Takeaways," which sums up the key messages from the episode.
The topic of discussion in the first two podcast episodes is on mental health – an issue facing many Americans as they struggle with the emotional stress and financial hardships caused by the COVID-19 pandemic. According to the Centers for Disease Control and Prevention's Morbidity and Mortality Weekly Report published on Feb. 5, 2021, "Combined prevalence estimates of current depression, initiating or increasing substance use, and suicidal thoughts/ideation were 28.6%, 18.2%, and 8.4%, respectively" in a survey of 1,000 respondents taken in April and May 2020.
Episode one of the podcast features an introduction from Five Acres' CEO, Chanel Boutakidis, followed by discussions on mental health issues with the Five Acres team of clinical professionals: Doncella Mumolo, division director of Community-Based Services, Jorden Collins, program manager of Community-Based Services, Keith McElhinney, Coordinator in Five Acre's Therapeutic Behavioral Specialist (TBS) program, and Ruth Casillas, a veteran of TBS.
In the second podcast episode on mental health, Jorden Collins and Doncella Mumolo share a heart-wrenching, but hopeful story about a resilient client named K. Despite her ups and downs, K leaned on Five Acres and their services to help her persevere in her endeavors.
Haynes said, "Five Acres podcast will be a fun and convenient way for us to connect with more people in Los Angeles and bring awareness to the extraordinary resources Five Acres offers the community."
In addition to Five Acres podcast, the Altadena-based foster care/adoption and mental health provider launched the HOPE line in May 2020 at the height of the pandemic. The HOPE line helps people in need of support in mental health, prevention of child abuse, domestic violence, and families seeking to become foster resource families. According to the Los Angeles Department of Children and Family Services, on average, the county's Child Protection Hotline received about 1,000 daily reports, which has increased during COVID-19. Individuals who are in need of support can call / text 800-696-6793 or email HOPE@5acres.org.
For more information on Five Acres podcast or for details on how to subscribe, visit https://5acres.org/five-acres-podcast/
# # #
About the Five Acres Podcast Co-Hosts:
Adam Haynes is a licensed clinical social worker and therapist and a trainer of evidence-based practices at Five Acres. Adam is a writer and veteran of the entertainment industry, which has allowed him to help with issues related to creative expression. He practices non-judgmental, strength-based and collaborative methodology, clinically grounded in a narrative, post-modern orientation. Adam believes we are the authors of our own unique life story, and as such, we have the power to enact meaningful transformations that create lives of stability, passion, opportunity and purpose.
Brandon Ito is the associate director of development at Five Acres and prior to that, has experience working as an executive director of the volunteer-powered Los Angeles nonprofit organization, My Wish List Foundation. At Five Acres, Brandon is responsible for creating and executing comprehensive strategic approaches to agencies fundraising including major gifts, annual fund, special events, corporate giving, strategic partnerships and in-kind resources. Brandon enjoys spreading the word of Five Acres' mission and their dedication to helping the thousands of children and their families in greater Los Angeles.
Jake Cashill is an integral part of the Five Acres family. As Facilities Director, Jake maintains the Five Acres buildings and campus. To him, his job means a lot more than that since the buildings he maintains provide shelter and care for children in need, and he and Five Acres leadership quickly responded to the changing environment caused by the COVID-19 pandemic. As a screenwriter, he loves to use his creative experience and passion for writing to produce some of Five Acres' visually compelling videos. Given pandemic restrictions, Jake's favorite LA spot is wherever his van will take him.
About Five Acres:
Since 1888, Five Acres has protected the most vulnerable members of our community: children. Serving more than 10,200 children and family members annually across six counties, Five Acres strives for permanency—a permanent, loving home—for all children in their care. The three pillars of safety, well-being and permanency provide the framework for its programs and guide their steps as the agency develops even more effective means of caring for children and families in crisis. Visit https://5acres.org/.