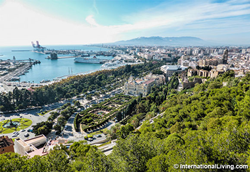 "The cost of living in Portugal is roughly 65% of what we were spending in Los Angeles"
BALTIMORE (PRWEB) December 03, 2019
"Sometimes only the big-city amenities will do," says Dan Prescher, a senior editor for International Living. "Especially if you need to travel often, being in a city with a major airport nearby is a great convenience. Plus, of course, the stores, the cultural activities, the restaurants, the entertainment opportunities…everything that makes the big city a great place."
But city living can be cost prohibitive, as anyone who has lived in New York or Chicago or Los Angeles knows very well.
However, there are major metropolitan centers all over the world that offer a big-city lifestyle at a fraction of the costs usually found in North America. The editors at International Living have identified five of the best — places where a couple can have all the conveniences and amenities of a major metropolis for just $37,000 per year or less.
Lisbon, Portugal— Western Europe's Best-Value Capital
Lisbon is the oldest city in Western Europe, predating London, Paris, and Rome by centuries.
Its location on the Atlantic makes Lisbon an important seaport, and the country's largest. Add nearby industrial, technological, financial, and mass media sectors, and you'll understand why Lisbon is the wealthiest region in Portugal.
Ed Hooks, a U.S.-born actor, moved to Lisbon with his wife, Cally, in 2017.
"We have loved Europe for many years, so it made cultural sense for us to make the move," says Ed. "In February 2017, we sold or gave away just about everything we owned, reduced our possessions to what would fit into 28 cardboard boxes for shipping, and we moved lock, stock, and barrel to Lisbon."
"We selected Lisbon because, first of all, it is warm," says Ed. "After living in Chicago for a few years, we knew we definitely did not want any more freezing cold winters."
The city is also more affordable. "The cost of living in Portugal is roughly 65% of what we were spending in Los Angeles," says Ed.
A couple can live well in Lisbon for $3,065 per month, $36,780 a year.
Lyon, France—France's Gastronomic Capital
Beautiful Lyon, France's third largest city, is often thought of as a runner-up to Paris. But for many of those who live there, Lyon stands in a class of its own and has all the usual offerings of a large, sophisticated city.
Lyon is not a city of grim skyscrapers, perpetually clogged with traffic and impatient city-dwellers. Rather, it's a tranquil city filled with elegant buildings painted in the warm yellow-orange-ochre hues of the Mediterranean. Not one but two rivers—the Saône and Rhône—cut right through the center of town, and locals often picnic, stroll, and bike along their banks. Few big, thriving cities offer the calm and loveliness of Lyon.
"My first experience of the French city of Lyon was an intensive two-week French language course," says Caroline Conner. "It was 2017 and I was living in San Francisco's Bay Area…but I was miserable and needed a change. I fell in love with the city almost immediately. It had everything I wanted in a European city."
Often called France's gastronomic capital, Lyon is famed for its food and wine. But while Caroline found plenty of vineyard tours in the regions surrounding Lyon, nobody was hosting English-language wine tastings in the city.
"To me, it seemed like a clear business opportunity. From Lyon, I had easy access to producers in nearby winemaking regions like Burgundy, Beaujolais, and the Rhône. So last year I launched CaroVin Lyon Wine Tastings, and life has been a delightful adventure ever since. I host the wine tastings in my apartment, a modern loft in a converted 19th-century silk factory in Croix-Rousse, a beautiful neighborhood perched on top of a hill. It's off the typical tourist track, and I love that my tastings bring visitors to this wonderful part of town.
"I enjoy the laidback culture and the gentle pace of life in Lyon," says Caroline, "and people here appreciate a work-life balance and take leisure time seriously, which suits me just fine.
A couple can live well in Lyon on $2,250 per month, or $27,000 a year.
Malaga, Spain—Big-City Life with Laidback Charm
Twenty years ago, Málaga was the ugly stepsister of Spain's Costa del Sol: a little scruffy and down-at-heel (though with gloriously sunny weather and a seaside location). But in recent years, it has transformed into a Cinderella: one of Spain's most livable—and affordable—cities for coastal living.
Today's Málaga is clean and bright, with a pedestrian-only city center and a revamped harbor area that is a joy to stroll. The city is brimming with museums, great dining, and plenty of shopping to suit all tastes and budgets.
Happily, the best of the "old" Málaga remains, as well. The sun still shines, there are miles of seaside, winter temperatures are balmy (days average 63 F in January), and sea breezes still blow off the Mediterranean, cooling the hot summer days. And Málaga is still cheerful and vibrant, oozing its trademark Andalusian charm. Best of all, it remains a very Spanish city, even in the prime tourist areas.
"If you like great food, sunshine, golf, value for money in a historic, cosmopolitan and chic Mediterranean setting you will love Malaga," says Ronan McMahon of Real Estate Trend Alert, who has spent lots of time there over the last two decades both for pleasure and in his work scouting for smart overseas investments.
A couple can live well in Malaga on a monthly budget of $2,237, or $26,844 a year.
Medellin, Colombia—the City of Flowers
Medellin is akin to the Mile-High City of Denver, Colorado with its outdoorsy ethos, vibrant cultural and food scene. But in Medellin—which shares the same high altitude, enthusiasm for healthy living, and cosmopolitan vibe—it's possible to live large for pennies on the dollar.
Medellín has been transformed during the last two decades and is now recognized as a city to watch. In 2013, Medellín beat out New York City and Tel Aviv to be named "The Most Innovative City in the World" by the Wall Street Journal and Citibank. The prestigious "Lee Kuan Yew World City Prize" was bestowed upon Medellín in 2016 as recognition for its transformation into a sustainable, viable city.
Located in the middle of Colombia, Medellín is tucked into a valley surrounded by the Andes Mountains. It is also Colombia´s second largest city. Although the greater Medellín area has nearly 3 million people living there, the city really feels more like a lot of neighborhoods connected to each other by green spaces. Accented with green parks, flowers that are always in bloom, gurgling brooks, and hundreds of birds in brilliant colors, Medellín feels smaller than the metropolis that it is.
"I took a bus to Medellín on Christmas Eve 2012, didn't know anybody, didn't speak very good Spanish either. I had a hotel room in Poblado for one night and I didn't know a soul," says William Edwards, 62, of the moment when he decided to move to Colombia for good.
"I went up to the top floor of the hotel and there's this beautiful view of the city. I thought 'this is nice'. I was so impressed, you know? That's probably when I knew Medellín was for me.
"I think a person could live here comfortably for $1,500 a month. That would be your rent, groceries, entertainment, and eating out regularly. There are concerts and theater events that I go to that are not expensive at all. There are also a lot of free activities. I think the same lifestyle in my hometown in the U.S. would cost roughly double, or even more."
A couple can live well in Medellin on a budget of $1,394-$1,994 per month, $16,728-$23,928 a year.
Panama City, Panama—Sophisticated Miami-esque Living
Panama City, the nation's capital, stands out as a true First World city in Central America. As well as offering top-rated healthcare and an active lifestyle by the ocean, it's a city where high-speed internet and cell coverage are commonplace, making it a digital nomad's paradise. And it boasts a much lower cost of living than similar cities in the U.S.
Miami, FL is known for its Art Deco architecture, sunny beaches, and sophisticated lifestyle, all of which comes with a hefty price tag. However, farther south in Panama City, Panama, expats can enjoy a similarly chic quality of life on the ocean at a fraction of the price.
Anybody who likes the idea of a cosmopolitan lifestyle that includes perks like playing golf often, enjoying weekly massages, employing a housekeeper, and regularly dining at upscale restaurants would appreciate the comfortable living in Panama City, where all of that and more is available for far less than it would cost in the States.
"We decided on Panama City, for a variety of reasons," says Caroline Muir. "Having lived a rural and quiet life for many years in California and Nevada, we were hungry for a city we could afford, for opportunity to create new careers with our writing skills, meet and mingle with people from all over the world, and live where beaches are a part of city life. We fell in love with the variety of restaurants, eclectic menus, and warm-hearted Panamanians eager to help in every way.
"Leaving behind coats, suits, boots, snow tires, and heating bills…we enthusiastically embraced semi-retirement along with the excitement of starting over. We welcomed the unknown."
A couple can live well on a budget of $1,753 - $2,900 per month, depending on the lifestyle you choose, or $21,036-$34,800 a year.
Much more information on these five affordable big-city lifestyle destinations is available at the links provided for each city.
Editor's Note: Members of the media have permission to republish the article linked above once credit is given to Internationalliving.com.
Further information, as well as interviews with expert authors for radio, TV or print, is available on request. Photos are also available.
For information about InternationalLiving.com content republishing, source material or to book an interview with one of our experts, contact PR Managing Editor, Marita Kelly, +001 667 312 3532, mkelly@internationalliving.com
Twitter: @inliving
Facebook: https://www.facebook.com/International.Living/
About International Living
Since 1979, Internationaliving.com has been the leading authority for anyone looking for global retirement or relocation opportunities. Through its monthly magazine and related e-letters, extensive website, podcasts, online bookstore, and events held around the world, InternationalLiving.com provides information and services to help its readers live better, travel farther, have more fun, save more money, and find better business opportunities when they expand their world beyond their own shores. InternationalLiving.com has more than 200 correspondents traveling the globe, investigating the best opportunities for travel, retirement, real estate, and investment.