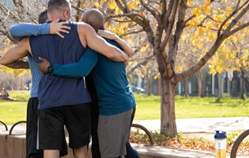 Customers continue to embrace the program as part of their wellbeing journeys, and they especially appreciate how the people in the IsaBody community help each other thrive. - Travis Ogden, Isagenix CEO
GILBERT, Ariz. (PRWEB) August 10, 2020
Isagenix International, a global wellbeing company providing effective products and a supportive community, announced today five new U.S. finalists competing in its annual total-body transformation program, the IsaBody Challenge®. The second Judging Period's finalists are Charles Payne of Cumming, Georgia; Holly Franz of Bedford, New Hampshire; Jerry Gray of Stanwood, Michigan; Kara Beverly of Bethel, Connecticut; and Morgan Bishop of Hopkins, South Carolina.
Finalists will receive $3,000 each as well as event tickets and paid expenses for themselves and a guest to New Year Kick Off 2021. Each finalist will be introduced at the event, where the IsaBody® Grand Prize Winner and Runner-Up will be announced. The IsaBody Challenge and New Year Kick Off are both hosted by Isagenix.
The second round of five finalists was selected out of thousands of people across the United States who completed the IsaBody Challenge during the second Judging Period. Isagenix will announce its third and final round later this year. A total of 15 finalists will compete for a chance to win the grand prize of $25,000 or the runner-up prize of $10,000.
"We're proud of the IsaBody Challenge and what it means to thousands of participants across the nation," said Isagenix Chief Executive Officer Travis Ogden. "Customers continue to embrace the program as part of their wellbeing journeys, and they especially appreciate how the people in the IsaBody community help each other thrive. Our latest finalists are no exception, as they've shown incredible dedication to reaching their goals and encouraging others along the way."
Meet the Finalists
Charles Payne, Georgia
Age: 44
Total Challenges completed: 4
Total weight loss over completed Challenges: 26 pounds*
Charles took this Challenge as a time to focus on gaining strength in his left knee, following reconstructive surgery in July 2019. He has taken his overall lsaBody journey one month at a time, using the IsaBody community to watch others, gain from their emotional and mental strength, and grow personally. He is forever grateful that his wife introduced him to Isagenix products, which he loves because of the results he's experienced. Lately, he has enjoyed the AMPED™ line, which supports his workout goals.
Holly Franz, New Hampshire
Age: 26
Total Challenges completed: 6
Total weight loss over completed Challenges: 23 pounds*
When she started her IsaBody journey in 2017, little did Holly know this would finally be "the" journey she needed to improve her overall wellbeing. She has lost weight, gained lean muscle, and created smarter eating habits. Just as important, Holly has listened to her body and lives in balance without guilt. She now feels more confident than she has since being confined to a wheelchair 12 years ago due to Friedreich's ataxia, a rare neuromuscular disorder. Holly is thankful for the IsaBody lifestyle and community and appreciates the memories she's created during her six Challenges.
Jerry Gray, Michigan
Age: 79
Total Challenges completed: 1
Total weight loss over completed Challenges: 10 pounds*
When Jerry met his wife, Liberty, they made a pact to work on their health together so they could enjoy a long, healthy life as a couple. They worked hard at their goal for 20 years, but then work and caring for her elderly parents left Liberty exhausted. A friend introduced her to Isagenix products, and she started consuming them. When she began feeling better, Jerry tried them too. He now enjoys a sense of vibrancy he says comes with consistent use of the products. In fact, Jerry is a Kettlebell Sport competitor who uses AMPED products to help train at a high level and recover well.
Kara Beverly, Connecticut
Age: 37
Total Challenges completed: 11
Total weight loss over completed Challenges: 30 pounds*
Kara started 2020 with the IsaBody Challenge and found the excitement of a new year of possibilities and new habits to be inspiring. She remains focused on health, strength, and movement, even with the recent challenges of having her three children at home all the time, assisting with their schooling, and not having access to the gym. She says Isagenix and the IsaBody Challenge have been the backbone to her healthy lifestyle, helping her continue shifting her body composition to more lean mass and less body fat while modeling good health for her children.
Morgan Bishop, South Carolina
Age: 38
Total Challenges completed: 17
Total weight loss over completed Challenges: 89 pounds*
When Morgan sees her before photo next to her progress photo, she is at a loss for words. Looking at the girl in the before photo, she can hardly remember what life was like in that body. But she is so thankful for that girl because everything she experienced made her who she is today. She is incredibly grateful for her physical and mental health and the body that she lives in now, as she's lost over 100 pounds since starting her Isagenix journey. Morgan is committed to continuing to transform her mind, body, and soul, and her goals include building lean muscle.
To see the finalists' before and progress photos, visit the Isagenix Newsroom. To learn more about Isagenix, visit the Newsroom, like the company on Facebook, and follow it on Twitter and Instagram.
*Weight loss, muscle gain, lifestyle, and other results depicted here reflect exceptional individual experiences of Isagenix customers and should not be construed as typical or average. Results vary with individual effort, body composition, eating patterns, time, exercise, and other factors, such as genetic and physiological makeup. A two-phase 2016 study published by researchers at Skidmore College showed an average weight loss of 24 pounds after 12 weeks. The study evaluated the use of Isagenix products in men and women for weight loss followed by weight maintenance. During the weight maintenance phase, the subjects who continued the calorie-controlled program using Isagenix products better maintained their weight loss in comparison to those who transitioned to a traditional diet after 52 weeks.
About the IsaBody Challenge
The IsaBody Challenge is a 16-week contest that rewards participants for their total-body and life transformations. Participants are judged on their before and progress photos as well as their personal essays describing their journeys. The contest looks for the most inspirational and motivational stories about how participants have made healthy body and life transformations. The IsaBody Challenge is open to all Isagenix customers and members over the age of 18 in markets where the company operates. For more information, visit the IsaBody Challenge page.
About Isagenix International
Established in 2002, Isagenix International believes that everyone deserves to experience a healthy, joyful, and abundant life. The global wellbeing company artfully crafts more than 175 effective products and offers a supportive community for its more than 425,000 customers worldwide. Isagenix shares its products through a network of independent distributors in 26 markets: the United States, Canada, Puerto Rico, Hong Kong, Australia, New Zealand, Taiwan, Mexico, the United Kingdom, Ireland, the Netherlands, Belgium, Spain, South Korea, Austria, Denmark, Finland, France, Germany, Italy, Japan, Norway, Poland, Portugal, Sweden, and Switzerland. The private family-owned company has its world headquarters in Gilbert, Arizona. For more information, visit Isagenix.com.