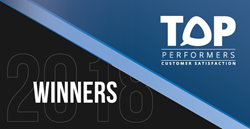 With over 30,000 loan officers in the running, NJ Lenders' very own Walter Gorman, Justin Bonura, Luke Chamberlin, Sandy Davis, and Mark Casamassina were all in the top 250 winning loan officers
LITTLE FALLS, N.J. (PRWEB) March 25, 2019
On March 7th, SocialSurvey made their big reveal with the announcement of their 2018 Top Performer Winners for Customer Satisfaction, and NJ Lenders Corp. is proud to declare that five of their loan officers have made the list.
With over 30,000 loan officers in the running, NJ Lenders' very own Walter Gorman, Justin Bonura, Luke Chamberlin, Sandy Davis, and Mark Casamassina were all in the top 250 winning loan officers. As a company, NJ Lenders has nearly 5,000 reviews and a near-perfect score of 4.90.
SocialSurvey, which is used to drive employee behavior and improve customer experience, online reputation, and revenues, has been used by NJ Lenders in order to obtain testimonials and reviews from past clients. SocialSurvey lets those clients rank the loan officers they worked with on a scale from 1-5 stars, and in order to crack the top 250 list, you needed an almost-perfect score.
Congratulations again to Walter, Justin, Luke, Sandy, and Mark on this well-earned accomplishment!
About NJ Lenders Corp.
Founded in 1991, NJ Lenders is a leading NJ-based residential mortgage banker that is privately owned and licensed. The company currently originates first mortgage loans in NJ, NY, CT, PA, VA, MD, and FL. With 11 offices and over $25 billion in closed mortgage loans, many of their Mortgage Loan Originators are recognized nationally as the best in their field. The company has competitive rates and fees with a wide variety of mortgage programs to select from.