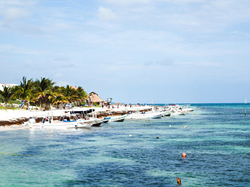 "In fact, in the the best-value places, you can live large from as little as $1,375 a month—which means it's possible to enjoy a good life on a Social Security check alone."
BALTIMORE (PRWEB) October 16, 2019
The average retired worker in the US receives a modest $1,474 a month in Social Security benefits, which comes to $17,700 a year.
With the high cost of living in the US, it's difficult to retire comfortably on that amount. (Retirement healthcare costsvnt alone are rising twice as fast as the typical annual increase in Social Security benefits.)
So what's a retiree to do in an era when savings are slim and costs are rising?
The editors at International Living advise: Look overseas. In the best-value locales beyond U.S. shores, that Social Security budget can really stretch, providing plenty to fund a lifestyle that's enjoyable, stress-free, and easy.
"If you dream of living and retiring in a warm, inviting, interesting spot—without financial worries—but figure that's just an out-of-reach fantasy, take note: You can do it overseas," says Dan Prescher, a senior editor with International Living
"In fact, in the the best-value places, you can live large from as little as $1,375 a month—which means it's possible to enjoy a good life on a Social Security check alone."
International Living's editors have highlighted 5 communities around the world worth attention today where a retiree can live a dream life on a decidedly modest budget—from as little as $1,375 a month:
Boquete, Panama
Boquete has long been considered one of the top places in the world to retire…and rightly so. Thousands of contented expats already enjoy a laidback, low-cost life in the area—surrounded by abundant wildlife, brightly colored orchids, and fertile farmland.
Rather than having four distinct seasons, in Boquete the year is divided into just two seasons. Summertime starts in December and runs through April. This is the dry season, with less rainfall and more wind. Wintertime starts in May and extends through November, with more frequent rain and cloud cover. Though heavy downpours do occur at times, fortunately, Panama does not have a monsoon season as in some Asian countries. Even during the rainy season there's plenty of sunshine.
A comfortable life in Boquete is very affordable. Life here is naturally inexpensive. Including rent for a two-bedroom house, monthly expenses can total just $1,533 a month.
For more details about retirement lifestyle and costs in Boquete, Panama, go here.
Zihuatanejo, Mexico
Crossed by the Sierra Madre del Sur mountain range is one of the most important seaports and tourist destinations on the Mexican Pacific coast. Zihuatanejo was once a favorite port of the Spanish explorers as they returned from the shipping routes of Asia.
"Zihua" as it's often called, was almost untouched until the mid-1970s, when the Mexican Department of Tourism (FONATUR) created a luxury resort masterpiece just 10 minutes up the coast. Ixtapa includes the beach of Playa El Palmar, two 18-hole championship golf courses at either end of the beach, and a string of luxury resort hotels and condominiums for year-round living (or lucrative rental opportunities). But Zihua has retained its low-key roots.
This area has become more and more popular because of its wonderful climate. The temperature falls perfectly between 85 F and 90 degrees F, with sea breezes everywhere from November to May. Rainy season (May through October) is hot and muggy, with high humidity that makes 85 F feel like 100 F.
Including rent and utilities, the Zihua lifestyle can be enjoyed for around $1,350 per month.
For more details about retirement lifestyle and costs in Zihuatanejo, Mexico, go here.
Ravenna, Italy
On the eastern side of Emilia-Romagna region, Ravenna gleams, with its brilliant mosaics and its location near the Adriatic Sea. Ravenna is a friendly and hospitable city, an urban space that is both refined and off-beat that instills a feeling of acceptance. Active, artsy, outdoorsy, literate, and low-key all describe this historic city of 165,000 residents.
Ravenna is user-friendly and visitor-friendly, so getting around and adapting is fairly simple. The old town center is the best and easiest location for those not wanting to keep a car, while the "first ring" of the periphery might be ideal if you want easier parking for your vehicle.
The city is just a few miles away from the Adriatic beaches and the sea helps moderate the climate. There isn't extreme cold, though winter is damp and chilly. Winter days average from 40 F to 48 F while summer daytime temperatures run between 77 F and 86 F.
This slice of the Italian Adriatic lifestyle, including rent and utilities, can be had for $1,517 per month.
For more details about retirement lifestyle and costs in Ravenna, Italy, go here.
Placencia, Belize
Placencia is a charming little seaside town found at the tip of a peninsula off the coast of mainland Belize. It's fast becoming Belize's most desirable location as it fronts the gorgeous Caribbean Sea to the east and a resplendent freshwater lagoon, full of wildlife and with a view of the gorgeous Maya mountain chain, to the west.
The Placencia Peninsula, a 16-mile spit of land that parallels the mainland, offers scenery of vivid blue waters and pure white sandy beaches.
Often referred to as the "caye you can drive to," Placencia is equipped with the same beauty and activity of the other Belize islands at a more relaxed pace. The central and southern coast of Belize is breathtaking, and despite the many new resorts, condo developments, and sophisticated restaurants, the area hasn't lost its rustic charm.
Keeping the authenticity and natural beauty of the area is important to residents and newcomers alike. The relaxed, Caribbean ambience of the town is one that will delight.
The weather is near perfect. With high temperatures of 79 F to 86 F, and lows of between 71 F and 79 F, the climate in Placencia is ideal. The idyllic surroundings has also made Placencia one of Belize's most sought after places to retire.
Add in the fact that the cost of living here is still much lower than in the U.S. A couple can live well here, including rent for a two-bedroom apartment and utilities, for just $1,760 per month.
For more details about retirement lifestyle and costs in Placencia, Belize, go here.
Hua Hin, Thailand
Once a quiet fishing village, Hua Hin, Thailand became a popular summer getaway destination for Thais in the 1920s, when the Royal Family built their summer palaces there.
Located on the eastern coast of the country and the shores of the Gulf of Thailand, it has year-round temperatures in the mid-80s F, making it a perfect beach getaway. By car or train, it is only about a four-hour journey from Bangkok, and with its population of about 85,000 people, it's laidback enough to feel like a beach town, but still has all the modern conveniences of any Western city.
Because the Royal family lives in Hua Hin at times, excellent healthcare is a requirement, so there is the JCI-accredited Bangkok International Hospital right in the center of town. Many of the doctors and nurses are fluent in English, so a lot of expats choose it for their network of physicians.
The city itself runs parallel to the beach, with fancy hotels and seafood restaurants lining it. The restaurant scene has benefitted from Hua Hin's international expats. Along the waterfront is a web of restaurants serving everything from fresh, right-off-the-boat seafood, to Indian and Greek food. Peppered in between the great restaurants are tons of bars and lounges, some with live music nightly.
And the cost of living is extremely affordable. A couple can live well in Hua Hin, including a two-bedroom apartment and utilities, for just $1,480 per month.
For more details about retirement lifestyle and costs in Hua Hin, Thailand, go here.
Editor's Note: Members of the media have permission to republish the article linked above once credit is given to Internationalliving.com
Further information, as well as interviews with expert authors for radio, TV or print, is available on request. Photos are also available.
For information about InternationalLiving.com content republishing, source material or to book an interview with one of our experts, contact PR Managing Editor, Marita Kelly, +001 667 312 3532, mkelly@internationalliving.com.
Twitter: @inliving
Facebook: https://www.facebook.com/International.Living/
About International Living
Since 1979, Internationaliving.com has been the leading authority for anyone looking for global retirement or relocation opportunities. Through its monthly magazine and related e-letters, extensive website, podcasts, online bookstore, and events held around the world, InternationalLiving.com provides information and services to help its readers live better, travel farther, have more fun, save more money, and find better business opportunities when they expand their world beyond their own shores. InternationalLiving.com has more than 200 correspondents traveling the globe, investigating the best opportunities for travel, retirement, real estate, and investment.