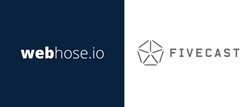 The tremendous growth in the use of the dark web for illicit activities demands advanced data intelligence gathering and OSINT techniques.
ARLINGTON, Va. (PRWEB) September 09, 2020
Law enforcement, defense, and criminal intelligence organizations today face unique challenges in combating the threats that the dark web presents. These threats include illicit transactions such as arms trafficking, drug dealing, and the sharing of exploitative content and extremist views that threaten the safety and security of global communities. This tremendous growth in the use of the dark web for illicit activities demands advanced data intelligence gathering.
Fivecast, a world-leading provider of open-source intelligence (OSINT) solutions, and Webhose, a leading data provider for the deep, dark, and open web, have partnered to meet these market demands. Through this partnership, Fivecast ONYX integrates with Webhose to access masses of dark web data that can be searched and analyzed to gain the essential insights required to identify threats and assess risk from malicious activities on the dark web.
This new dark web data source in Fivecast ONYX complements the existing capabilities of the solution to perform advanced data collection across open-source platforms and deliver superior AI-driven insights that enable fast threat identification and risk assessment. Fivecast ONYX delivers the world's foremost national security and law enforcement agencies with the capability to explore masses of unstructured digital data, gaining critical insights that are used to protect global communities. The ability to correlate and compare dark web and deep web data will facilitate advanced intelligence gathering and network analysis for investigations that span diverse data sources. These investigations are linked to a wide range of initiatives that include counter-terrorism, counter-extremism, fraud detection, narcotics operations, exploitation, and other criminal activities.
"We are honored to provide Fivecast with access to our comprehensive dark web data coverage that includes millions of sites, marketplaces, and messaging platforms crawled daily from multiple dark web networks. Dark web data is a crucial part in the ever-increasing need to secure the safety of global communities, and we are proud to play a role in supplying this data to those who help keep us safe," says Ran Geva, co-founder, and CEO of Webhose.
"At Fivecast we continually strive to add value to our OSINT solutions to help our customers achieve their digital intelligence objectives. Webhose is at the cutting-edge of dark web intelligence and this partnership will further enhance the capabilities of Fivecast ONYX to help law enforcement and national security organizations quickly analyze huge volumes of data and assess risk across ever-expanding and diverse digital landscape," says Dr. Brenton Cooper, CEO of Fivecast.
About Fivecast
Fivecast is enabling a safer world. As a world-leading provider of cutting-edge digital intelligence solutions, Fivecast delivers the world's most important public and private organizations with the capability to explore masses of digital data, gaining insights that are critical in protecting our communities. Utilizing leading-edge AI-enabled technology and with the ability to solve the most complex intelligence challenges, there is no other technology that has the capabilities of Fivecast's solutions.
Webhose
Webhose is the leading data collection provider turning unstructured web content into machine-readable data feeds. It delivers comprehensive, up-to-the-minute coverage of the open, deep, and dark web. Webhose API is utilized for cybersecurity, financial analysis, market research, web monitoring, AI, and machine learning.