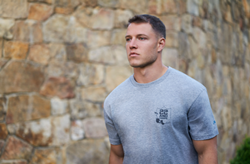 "We want to raise awareness and say thank you to all the men and women who protect us and their families as the scarifies they make don't go unnoticed."
NEW YORK (PRWEB) May 19, 2021
Flag & Anthem is proud to support Military Appreciation Month by partnering with Flag & Anthem Ambassador and Carolina Panthers Running Back Christian McCaffrey and the Christian McCaffrey Foundation to raise money and support the foundation's newest charity initiative, 22 and Troops. Flag & Anthem has created a special collection of graphic tees where 100% of the proceeds will be donated to help active-duty military, veterans, frontline works and their families overcome trauma and PTSD through a partnership with REBOOT Recovery.
"We're incredibly proud of the work Christian is doing to help support America's armed forces and their families," said Brad Gartman, Co-Founder of Flag & Anthem. "We want to raise awareness and say thank you to all the men and women who protect us and their families as the scarifies they make don't go unnoticed."
Designed in collaboration with Christian McCaffrey, the exclusive unisex graphic tees feature the 22 and Troops logo on both the front and the back and are available in black and grey.
22 and Troops was launched out of a desire by Christian McCaffrey to show up in support of those who have made the greatest sacrifices and need our help to address what happens when the uniform comes off and our heroes come home. With more than 22 veterans dying by suicide every day, these families cannot wait.
REBOOT Recovery was founded in 2011 and is rooted in faith-based and holistic interventions, courses, training, and online tools for active-duty military, veterans, first-responders, and their families. Their online and in-person programs are led by others who have experienced and overcome similar trauma and can offer practical help and a strong foundation of community.
Flag & Anthem's 22 and Troops charity tees are available for $22.22 and can be purchased online at flagandanthem.com.
Stay up to date with the latest information on Flag & Anthem and Christian McCaffrey by following @flagandanthemco and @christianmccaffrey. To learn more about Flag & Anthem's commitment to Military Appreciation, visit Flag & Anthem's blog at flagandanthem.com/blogs/news.
# # # # #
ABOUT FLAG & ANTHEM
Established in 2016, Flag & Anthem was founded as a premium quality men's clothing brand by two guys who have been making clothing for over 20 years. They've mastered superior quality, impeccable detail, and the perfect fit, all at an affordable price. Flag & Anthem exemplifies a refined to rugged look with an authentic, vintage-inspired aesthetic and specializes in making comfortable and versatile clothing that you can wear while you enjoy your everyday life, wherever it takes you. Seasonal collections include casual button-downs, elevated knitwear, comfort denim, signature chinos, hybrid shorts, and much more. In Spring 2020 their everyday performance line, MadeFlex, launched as a much-needed collection, combining the best technologies with the most versatile styles to create wearable-performance apparel. In Spring 2018, Flag & Anthem started a long-term partnership with country music star Dierks Bentley on the brand's Desert Son product line. Flag & Anthem is available at http://www.flagandanthem.com and such retailers as Stitch Fix, Bloomingdale's, Dillard's, Buckle, Von Maur, Scheels and hundreds of specialty boutiques across the country.