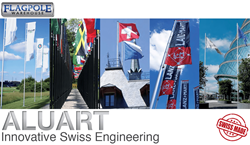 The addition of ALUART to our already extensive roster of flagpoles, is the finishing touch to top off our line of products. We're all very excited about being named to help introduce this respected line of flagpoles to the U.S. market
ATLANTA (PRWEB) September 26, 2018
Flagpole Warehouse today announced the availability, for the first time in America, the high-quality precision of Swiss-engineered flagpoles at affordable price-points. As the official distributor of ALUART Flag and banner poles in United States, a name that for more than 20 years has been synonymous with Swiss quality, service, design and cost-effectiveness, Flagpole Warehouse bolsters its position as the foremost supplier of flagpoles in the U.S.
Flagpoles from ALUART are well-established in Europe, fronting many prestigious venues, major corporate headquarters, sports arenas, and civic buildings throughout the continent. ALUART flagpoles are made according to the newest, most stringent technological standards, and feature the highest functionality, weather resistance, and of course, unique and efficient Swiss design.
According to Mike Lawrence, Vice President of The Flag Company, Inc., "The addition of ALUART to our already extensive roster of flagpoles, is the finishing touch to top off our line of products. We're all very excited about being named to help introduce this respected line of flagpoles to the U.S. market."
The comprehensive ALUART Flagpole line includes: The Deluxe Lockup Banner Arm Flagpole. Based on the well-established Lockup Rotating Arm Flagpole which displays flags at full size, an internal halyard makes this flagpole virtually theft and vandal-proof. The Standard Banner Arm Flagpole, a theft-proof flagpole ideal for displaying advertising flags, it's a cost-effective flagpole conceived for permanent use for businesses, shopping centers and restaurants. A rotating arm is designed to optimally display the flag even without wind. The Deluxe Lockup Flagpole, due to its exceptional interior hoisting mechanism, is particularly suitable for pedestrian locations such as public buildings or shopping districts. This flagpole combines the advantages of the proven access door mast and those of the access door cantilever arm deluxe mast. The Standard Flagpole, with its simple, durable style is an excellent, entry-level flagpole, because of its straightforward precision-machined fittings and rugged Swiss design, can be assembled quickly and easily.
Mr. Lawrence concludes: "We anticipate a tremendous response in this country to ALUART's premium flagpoles. Our market will see, feel and experience first-hand just exactly what the phrase 'Made in Switzerland' means. ALUART represents the finale to our outstanding line of flagpoles."
For more information on the new ALUART line of Swiss made flagpoles contact Flagpole Warehouse call 800-952-0956 or check it out at. https://www.flagpolewarehouse.com/swiss_flagpoles
The Flagpole Warehouse.com division boasts several flagship portfolio jobs including:

1996 Olympics, Atlanta, GA - Flagpoles and Flags
Dow Chemical World Headquarters, Midland, MI - Flagpoles & Flagpole Beacons
National Infantry Museum, Fort Benning, GA - Flagpoles
FORSCOM Headquarters, Fort Bragg, NC - Flagpoles
Hartsfield-Jackson Atlanta International Airport - Flagpoles
IKEA, CA - Flagpole Beacons
ManpowerGroup World Headquarters, Milwaukee, WI. - Flagpoles & Flagpole Beacons
Strategic Operations, San Diego, CA - Custom Flagpoles
Turner Field, Atlanta, GA – Flagpoles
About The Flag Company, Inc. and Flagpole Warehouse
Flagpole Warehouse being named the official distributor in the United States. for ALUART Flagpoles, is the latest example of The Flag Company, Inc.'s continued pursuit of being at the forefront of the industry. Since its founding over 25 years ago, The The Flag Company, Inc. has strived to maintain its leadership position. As the largest online supplier of flags and flagpoles, The Flag Company, Inc. established its first success as the originator of the iconic Farming Flags®. Since then, The Flag Company, Inc. has led the industry with such products as its patented Flagpole Beacon for its Illuminator Series flagpoles, and for single sale retrofits, as well as Homesteader Tapered Poles and Solar Beacon Packages.
Catering to eighteen distinct categories of customers, The Flag Company, Inc. provides an extensive inventory to meet any need. The Flag Company, Inc. now also partners with a dedicated machine and manufacturing company, expanding its capability to provide custom brackets, finials, hardware and other similar products for special orders. Additionally, The Flag Company, Inc. is collaborating on pioneering robotic equipment for use in the flagpole industry.
Thriving on special and challenging projects, The Flag Company, Inc. resumé includes highpoints such as flagpoles for Georgetown University in Qatar, the Spiral Rotunda at Aruba International Airport, Dow Chemical Headquarters in Michigan, and the 1996 Centennial Olympics in Atlanta, GA., among many others.