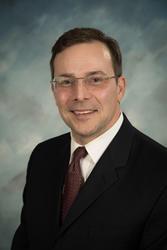 Flagship clients already benefit from the company's scientific process enhanced by machine learning, and from its laboratory capabilities and tissue analysis technology. I'm excited to build on this strong foundation to bring new diagnostic tissue tests to market.
WESTMINSTER, Colo. (PRWEB) March 31, 2020
Flagship Biosciences, providers of expert tissue data insights, today announced that Geoff Metcalf, MBA, PMP, will join its executive team as Vice President Clinical Diagnostics. Geoff brings 25 years of experience in developing and commercializing diagnostic tests and medical devices. In his new role, Geoff will lead the creation and implementation of diagnostic tissue tests utilizing Flagship's unique tissue analysis technology, workflow, and CAP/CLIA lab.
Geoff has served in a variety of leadership roles from strategic planning and product development to sales and marketing and business development. His background includes successes with industry leaders Eli Lilly, Siemens, and Beckman Coulter, and most recently with start-up organizations, creating businesses based on novel technologies. Geoff earned a BS in Chemical Engineering from Virginia Tech and an MBA from Harvard University.
"It's my pleasure to welcome Geoff to the Flagship family," said Trevor Johnson, Flagship Biosciences CEO. "Geoff's broad industry experience and specifically in preparing and marketing diagnostic tests make him the perfect new leader for our growing clinical diagnostics business unit."
Flagship already supports diagnostic labs, cancer centers, and academic medical centers with tissue data insights gained in its College of American Pathologists (CAP)-accredited and Clinical Laboratory Improvement Amendments (CLIA)-certified lab. Geoff will expand these offerings for clinical clients and partners.
"I couldn't be happier about joining Flagship to expand clinical diagnostics," said Geoff. "Flagship clients already benefit from the company's scientific process enhanced by machine learning, and from its laboratory capabilities and tissue analysis technology. I'm excited to build on this strong foundation to bring new diagnostic tissue tests to market."
About Flagship Biosciences
Founded in 2009 and headquartered in Westminster, Colorado, Flagship Biosciences, Inc. is a technology-driven tissue analysis services company delivering the most accurate and informative data available. It is revolutionizing tissue analysis to improve drug development and diagnostics using the power of AI with a consultative approach. Flagship's services and technology dramatically improve on the data and interpretation from traditional pathology methods, eliminating variability and bringing new insights to tissue analysis results. With expert scientific consultation on every project, Flagship's team interprets results, contextualizes tissue biology, and identifies the best course for success. flagshipbio.com