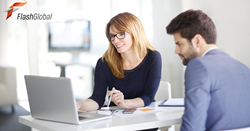 "Technology is among the hottest topics in this industry; in fact, it may be the greatest differentiator when striving to gain a competitive advantage."
MOUNTAIN LAKES, N.J. (PRWEB) December 06, 2018
Flash Global is a leading provider of global after-sales service and support solutions used by many of the world's most prominent original equipment manufacturers in verticals such as medical device, energy, oil and gas, data storage, network hardware, telecommunications, retail technology and more. Join Flash as its FlashTube educational webinar series continues in December with a focus on Technology & Supply Chain Visibility. The webinar is scheduled to start at 11 a.m. EST on Tuesday, December 11.
It's a common water cooler topic that if the right technology is in place and utilized, life will be better. That's especially true in the world of service supply chains, where professionals must have end-to-end visibility 24/7/365 and order management to drive decisions that deliver greater customer satisfaction and accelerate global expansion.
Join Tye Brown, Product Manager for Flash Global's robust FlashTrac technology tool, as she leads an hourlong discussion that will cover the following topics:

Challenges related to global inventory visibility
What to look for in service supply chain technology
Technology platforms to consider
Benefits and outcomes when the right technology is implemented
Register now for this session which will include an open Q&A session.
"FlashTube is an on-demand webinar series designed to educate service supply chain professionals and start conversations about the trends and most pressing issues they face on a daily basis," said Ryan Miller, Flash Global's vice president of global marketing. "Technology is among the hottest topics in this industry; in fact, it may be the greatest differentiator when striving to gain a competitive advantage."
Learn more about the free FlashTube webinar series and watch archived sessions here.
ABOUT FLASH GLOBAL
Headquartered in New Jersey, Flash Global designs and implements end-to-end service supply chain strategies for rapidly expanding companies, including many of the world's top high-tech original equipment manufacturers. Through its unique Simplicity of One approach — one comprehensive suite of integrated services, a single point of contact and one contract — Flash creates custom solutions that enable companies to efficiently scale in countries all around the world. Companies leverage in-region and in-country expertise throughout Flash's worldwide infrastructure of global service centers, regional command centers, distribution centers and forward stocking locations to seamlessly move products across international borders and serve their customer bases. To learn more about Flash Global, visit http://www.flashglobal.com.