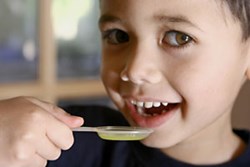 We are especially thankful for the support of our 40,000 pharmacy partners and the countless pharmacists and technicians who make it happen. Without them, this achievement would not have been possible
Columbia, Maryland (PRWEB) August 31, 2013
Founded in 1994 in a small independent pharmacy in Washington, D.C., FLAVORx is now available in over 40,000 locations including most chain, grocery, mass merchant pharmacies as well as several thousand independents. The company estimates that their partner pharmacies have now custom-flavored over 50,000,000 liquid medications.
"We are incredibly proud to have made such a positive impact on the lives of so many children and parents, both here in the U.S. and across the world," said Stuart R. Amos, CEO of FLAVORx. "We are especially thankful for the support of our 40,000 pharmacy partners and the countless pharmacists and technicians who make it happen. Without them, this achievement would not have been possible."
The FLAVORx system utilizes flavoring agents and specific recipes to change the taste of liquid medications and improve adherence. From Amoxicillin to Zyrtec, recipes for over 450 medications are available. Patients simply choose the flavor of their medication when the prescription is dropped off or picked up at the pharmacy. The flavors are used to improve the taste of bad-tasting medication as well as change flavors to meet patients' taste preferences. Bubblegum, grape and strawberry are the most requested flavors in the FLAVORx lineup. The flavors, which are a blend of natural and artificial flavors, are sugar-free, dye-free and gluten-free, making them safe for a wide range of patients. FLAVORx offers its pharmacy partners flavoring recipes customized to each medication. Through taste and stability testing, parents can rest assured that the flavorings are safe and have no effect on the stability or dosing of the medication. The only effect is positive: palatable medication.
In addition to their Pediatric Flavoring System, FLAVORx has a line-up of products that bring technology to pharmacies and also increase medicinal adherence. In 2007, FLAVORx partnered with Fillmaster Systems to automate reconstitution and flavoring in the pharmacy workflow. The result of the partnership is an innovative piece of pharmacy technology, the Fillmaster Plus. FLAVORx has also developed a solution for improving adherence among patients of all ages with Pill Glide, a flavored spray that makes it easier for patients to swallow pills. FLAVORx didn't forget about your beloved pets. The FLAVORx Veterinary Systems allow Fluffy and Fido to take their medication as a flavored liquid treat. FLAVORx, Fillmaster, Fillmaster Plus, Pill Glide and FLAVORx Veterinary are available in chain pharmacies, independent pharmacies, and veterinary clinics nationwide.
About FLAVORx Inc.
FLAVORx has been helping people take their medicine since 1994. The Columbia, MD based company's mission is to improve lives and health-related outcomes through higher medication adherence. The FLAVORx Pediatric Flavoring System is available in over 40,000 pharmacy locations across the country, including CVS/pharmacy, Walgreens, Rite Aid, Target, Wal-Mart and Publix pharmacies. A complete list of participating FLAVORx pharmacies is available at their Pharmacy Locator web page. Using FLAVORx's copyrighted flavoring recipes, pharmacists have safely flavored over 50 million prescription and over-the-counter medications for children, making it easier for them and their parents to deal with the stresses of being sick. FLAVORx also supplies pharmacists and veterinarians with veterinary prescription flavoring systems to make pet medication easier to swallow.