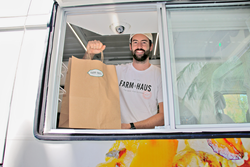 Mobilizing a brand allows operators to maintain quality and see their on-demand customers in person once again.
ORLANDO, Fla. (PRWEB) September 17, 2018
Fleat Network, a Florida technology startup that enables retailers to mobilize their operations to fulfill off-premise sales, has launched a pilot program with Orlando-based restaurant Farm&Haus. Although Fleat's technology can be applied to distribute nearly any type of goods or service, the company is focused initially on solving the problem of delivering hot and fresh meals to on-demand consumers.
Fleat's intelligent mobile storefronts are powered by the company's patented StreetLogic™ technology that leverages a retailer's customer database to seek on-demand orders. Based on a mobile storefront's location and heading, personalized digital promotions are sent using automated messaging and artificial intelligence derived from purchase histories. Once a customer is digitally paired with a delivery vehicle, they can choose from available inventory and quickly place an order for curbside service. Specialized holding equipment, real-time communications and workflow automations allow mobile storefronts to remain in the delivery zone for entire shifts...maximizing sales and brand awareness, while reducing worker hours and fuel consumption over traditional delivery methods.
Watch video showing Fleat's patented technology using AI to seek on-demand consumers.
"We've tried some of the third-party delivery services and every one of them take about a 30% cut, which is all the profit," said Patrick Lyne, co-owner of Farm&Haus. In contrast, Fleat allows retailers to keep all revenue generated from off-premise sales, and instead provides its network platform and delivery vehicles for a fixed monthly fee.
"Perhaps the biggest advantage when using Fleat, is the ability for retailers to maintain complete control and therefore guarantee the highest product quality," said Patrick Fore, CEO and Co-founder of Fleat Network. "Mobilizing a brand allows an opportunity for operators to get over the digital divide and in front of their on-demand customers once again."
Brittany Lyne, co-owner of Farm&Haus said, "Having an on-demand solution is vital today. More than just providing a delivery solution, Fleat is helping us further develop a relationship with our customer, and giving us a competitive edge in the local market."
"Delivery and last mile logistics have been the talking point for some time now," said Jimi Beach, Chief Development Officer and inventor of Fleat's patented technologies. "However, we're way beyond the delivery discussion. Convenience and quality are completely driving the new digital economy, and retailers should be careful how they choose to fulfill off-premise sales. A single bad experience can turn a customer for good."
About FLEAT:
FLEAT® provides a full-stack technology solution that allows fresh-food, grocery and convenience retailers the ability to manage their own off-premise operations, without losing profits or sacrificing quality to third-party couriers. For a fixed monthly cost, retailers using FLEAT can launch a network of intelligent mobile storefronts to better serve on-demand consumers, maintain control of their customer data, and promote awareness in hyperlocal markets using transit advertising and intelligent geo-targeted digital promotions.