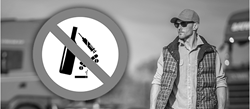 "The visibility, expertise, and guidance we receive from Fleetworthy Solutions is priceless. We have visibility into our regulatory compliance like never before, which helps us make the right decisions and gives us confidence in our compliance."
MADISON, Wis. (PRWEB) December 16, 2019
Transportation compliance service provider Fleetworthy Solutions announced a new Drug and Alcohol Clearinghouse service to simplify compliance with the new FMCSA regulation. Fleetworthy's D&A Clearinghouse Management program is a full service, turn-key solution to help motor carriers comply with FMCSA Part 382 Subpart G which goes into effect on January 6th, 2020. The new Clearinghouse is an online government database that will give motor carriers, FMCSA, and State agencies real-time information about CDL drivers' drug and alcohol program violations. The goal of the database is to prevent job-hopping by drivers who fail their drug and alcohol tests. However, the new regulations will burden safety managers with more Clearinghouse duties on top of everything they already do today and put pressure on driver recruiting by adding more process steps and dependencies. Motor carriers will be required to check the Clearinghouse for all prospective new employees prior to hiring and are required to check for violations at least once per year for all its active CDL drivers.
"Fleetworthy has been building out the scope and features of this program for some time. We take designing our products based on industry needs and customer feedback seriously. With already ample experience helping manage Drug and Alcohol testing and reporting programs, we feel that Fleetworthy is positioned to be a leader in the new federally-mandated market of Drug and Alcohol Clearinghouse program management." – Michael Precia, CEO and President, Fleetworthy Solutions
Fleetworthy will handle the extra work required to comply with this new mandate by acting as your third-party administrator – from full queries on pre-hire driver applicants and annual limited queries on existing drivers to entering D&A test violations and keeping your DQ records up to date!

Execute full queries on behalf of motor carrier upon receipt of driver release
Execute annual limited queries on behalf of motor carrier upon verification of driver release
Submit D&A program violations, negative RTD test results, and follow-up testing plan completions
Monitor and communicate Clearinghouse compliance status to motor carrier
Maintain required Clearinghouse documents in driver's online DQ file
Help motor carriers get up-and-running in the Clearinghouse…fast
About Fleetworthy Solutions
At Fleetworthy Solutions, we believe the minimum requirement is only the beginning. And that core belief drives everything we do, including our quest to change the way the trucking industry thinks about compliance.
For more than thirty years, we built a reputation for helping fleets exceed state and federal standards. Our ability to drive unprecedented results helped us achieve a high client retention rate.
Today, as Fleetworthy Solutions, we're building on that legacy. We're taking fleets of all types and sizes to new heights through the power of intelligent compliance: Fleetworthy's proprietary approach to integrating exceptional client service, advanced technologies and unmatched industry expertise. Intelligent compliance provides the fleets we serve with the visibility and control it takes to streamline processes, reduce risk and improve profitability.
Of course, your fleet could settle for merely being compliant. But so much hinges on the performance of your drivers and vehicles. Every day they're on the road, they represent your company in a highly visible way. This demands a higher standard—and a more intelligent approach to compliance.
So why settle for meeting the minimum requirement when you can go Beyond compliant?