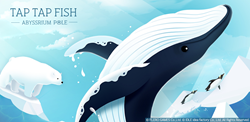 SEOUL, South Korea (PRWEB) January 08, 2020
The mobile game company, Flero Games (Ho-Dae Lee, the CEO), has launched its free-to-play mobile healing game Abyssrium Pole which was developed by its subsidiary, IDLE Idea Factory (Hyo-Sik Kim, the CEO), globally on iOS and Google Play today.
Abyssrium Pole, known as the official sequel to the game Abyssrium which hit 50 million downloads globally, attracted player's attention as soon as the first teaser was released and the game hit one million pre-registers globally.
The game play is the same as Abyssrium which collects and manages various animals and corals using vitality by tapping the screen. The huge difference between Abyssrium and Abyssrium pole is the expanded area which is new content where players explore the glacier and the sky as well as under the ocean.
As for the successful pre-registration, all players will be given 1,100Pearls, which are in-game goods and a limited special character, which is a muffler penguin, as a reward for pre-registering by the 30th of January.
The business director at Flerogames, Yoon-hee Choi, said, "We really appreciate those people who have been waiting for Abyssrium Pole patiently", "We are confident that you will not regret waiting for it" and "We hope people will love our game and sense the healing and relaxation by playing it"
On the other hand, to celebrate the official launch of Abyssrium Pole, Flerogames will be holding a login attendance event that will allow players to acquire representative characters from the Arctic regions such as harp seals, arctic hares, white walrus gulls, and arctic wolves, depending on the number of accumulated login days.
In addition, various launch events will be conducted through official Twitter, Facebook, and the official cafe.
The game is available on both iOS and Google Play and more details about the event can be found on the official cafe.