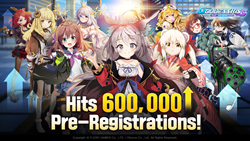 SEOUL, South Korea (PRWEB) September 21, 2020
The bishojo collection RPG 'Goddess Kiss: O.V.E'("O.V.E"), developed and to be serviced by Flero Games(Ho-Dae Lee, CEO), has announced on the 21st that their pre-registration numbers have passed 600,000.
'O.V.E' is a collection RPG that utilizes the IP of 'Goddess Kiss', a bishojo game that made a mark in Korea with the novel concept of kisses and jaw-dropping visuals of exquisite quality. The game retains its ties with the previous title through robotic units and descendent characters, but also boasts upgraded graphics and story, newly showcased settings and modes, etc., that make it stand out, which has resulted in interests from global subculture fans as well as the originals' fans.
Spurred on by such interests, O.V.E's pre-registration has reached and passed 600K, and so due to the accumulated participation event which was held simultaneously with the pre-registration, all participants are able to begin the game with a natural 4-star character, Amica and a premium resource of 4,000 Diamonds. As a show of thank-you for the hype, the company also plans to upscale the event rewards and give out an extra 2,000 Diamonds should the numbers reach over 800K before launch.
In related news, Flero Games has announced a special pre-registration PV that shows the main characters on their official YouTube channel to celebrate the release. The PV features each characters' charming point, and their custom destruction motion. Furthermore, you can watch the kiss scenes which represents the game.
"We are grateful for all the love and interest O.V.E has received. We plan to do our best to produce a game with both high quality and stability by early Q4," announced Flero Games' Business Team. "The pre-registration rewards will greatly help during the early stages of the game. We hope the fans will all participate to enjoy the numerous benefits as they begin their O.V.E experience."
O.V.E pre-registration is available on Google Play and App Store, as well as on pre-registration apps. Details can be viewed at the brand page and the official Facebook page.