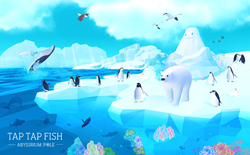 Abyssrium Pole will help heal people's mind all over the world as we did with Abyssrium
SEOUL, Korea (PRWEB) November 08, 2019
The mobile game company, Flero Games (Ho-Dae Lee, the CEO), released another teaser of Abyssrium Pole which was developed by its subsidiary, IDLE Idea Factory (Hyo-Sik Kim, the CEO), today.
Abyssrium Pole is known as the official sequel to the game Abyssrium, which hit 50 million downloads globally, attracted players' attention as soon as the teaser was released.
The teaser put the spotlight on new content that expands areas such as glacier and the sky, which are the most different content from Abyssrium. Especially, panoramic view of the arctic world where penguins jump over the sea, birds fly freely in herds and whale jumps to the surface of the water that can show dynamic character motions.
People expect that Abyssrium Pole will surpass what Abyssrium has achieved because it provides richer characters and more beautiful music that gives people a greater sense of 'healing' just by watching and playing it.
The CEO of Flero Games said, "It's only the beginning to be excited of what's been released" and "There will be more characters and content players will see". Hyo Sik Kim, the CEO of IDLE Idea Factory said, "I am sure Abyssrium Pole will help heal people's mind all over the world as we did with Abyssrium so, you can look forward to the game's launch".
The pre-registration of the 'Abyssrium Pole' is available on the Google Play and iOS and pre-registered users will be given "Pearl" which is in-game goods and a special character as a reward, depending on the cumulative number of pre-registration.
More details on the game and information on pre-registration for the game can be found on the official homepage.