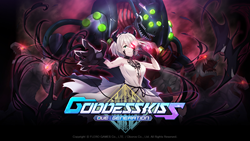 SEOUL (PRWEB) August 12, 2020
The official cinematic trailer for new hero-collecting RPG 'Goddess Kiss: O.V.E' has been released by Flero Games((Ho-Dae Lee, the CEO) on August 12th.
Goddess Kiss: O.V.E.' is a new mobile hero-collecting RPG that significantly expand the DBROS' Goddess kiss IP which is still highly regarded among worldwide fans. The game will open pre-registrations in this month, and will be released in worldwide within 2020.
The story of O.V.E. starts with the great war between imperial army and R.E.A.P army which is the main story of its previous version 'Goddess Kiss.' In the clip, we can see the world of chaos after the great war, born of an obedience genetic mutation of specific genes, "Creatures" are showing up in the world. But there are some girls who can resist and kill "Creatures", so-called, O.V.E. (Obedience Vanquish Elemental). And mankind began the world reconstruction with the help of the O.V.E. girls' power.
At the end of video, you can find the hint that there will be tragic event and the world would relapse into chaos, building up the fans' anticipating. An anime-like O.V.E. trailer supports 5 languages including Korean, Japanese, English, Chinese (Simplified, Traditional), and you can watch it on Flero Games You Tube channel.
"If you've ever played its original version Goddess Kiss, O.V.E. is the game for you. O.V.E. will be the newest game in the series that have captivated worldwide fans." said Joung Bum Lee, executive producer of DBROS. Also, he said, "We hope that our fans could enjoy its well-organized plot and substantially enhanced graphics."