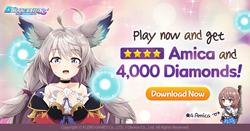 SEOUL, South Korea (PRWEB) October 07, 2020
The bishojo collection RPG 'Goddess Kiss: O.V.E' ("O.V.E"), developed by DBROS and to be serviced by Flero Games (Ho-Dae Lee, CEO), has announced on the 7th that it's officially released.
'O.V.E' is a collection PRG that utilizes the IP of Goddess Kiss, an anime girls game that made a mark in Korea with the novel concept of kisses. The game retains its previous title through top-notch illustration and brilliant skill animations of charming characters, whetting their fans' appetite for collecting. The developer team also boasts enhanced skill animations and motion graphics, and makes the game higher quality, adding own individuality of O.V.E .
The moment O.V.E was revealed, it drew attention from global subculture fans as one of the most anticipated games this season. Now, the game is globally released and available on Google Play Store and App Store on 7th October. Since the game reached over 600K+ pre-registrations, any applicant can gain a natural 4-star 'Amica' and premium resource of 4,000 Diamonds.
"We are proud to show off our game 'O.V.E' we have been working on. We are confident that 'O.V.E' will be the potential leader of the next generation for bishojo collection RPG. We will make our best efforts to deliver a WOW experience," said Munha Song, manager of the Business Team. "We are planning various updates including character, scenario, and season events. We hope our fans will love our game and enjoy it."
Flero Games also has planned various events to celebrate the official release of 'O.V.E'. First, players can get lavish gifts including 'Diamond', 'Gold', 'SSR Equipment Box'. Also, if you are the fan of its previous title, don't miss the chance to get its previous title's 4 main characters! A rate up event for obtaining the next generation of previous title's main 4 characters (Petra, Emily, Felicity, and Tsubasa) will be held during the limited period.
'Goddess Kiss: O.V.E' is available now from the App Store and Google Play, and you can check the girls' back story from the official Facebook and Twitter.
Official Facebook: https://www.facebook.com/GoddessKissOVE
Official Twitter: https://twitter.com/GoddessKiss_OVE