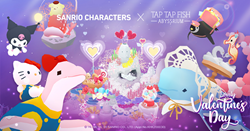 Everyone who login until 8th March will be given '10,000 Ribbon' which is in-game goods and a special character 'Kuromi' as a reward when they complete the Valentine's quest!
SEOUL, South Korea (PRWEB) February 11, 2020
Love is in the air for Abyssrium fans as 'Abyssrium' meets SANRIO charaters!
Flero Games (Ho-Dae Lee, the CEO) announced the partnership between their global mobile relaxing game Abyssrium, which was developed by its subsidiary, IDLE Idea Factory (Hyo-Sik Kim, the CEO) and SANRIO Characters including global character Hello Kitty on 12th February.
SANRIO, one of the famous global character brands, is best known for their own characters - HELLO KITTY, MY MELODY, CINNAMOROLL with massive global appeal and fan interest.
This first-ever collaboration event between Abyssrium and SANRIO Characters were designed to give players a special experience on Valentine's Day. Players can get their hands on special characters 'Hello Kitty' and 'Kuromi' in the game. The event also offers unique collaboration extensions - 'Giant Clam Hello Kitty', 'Conch Cinnamoroll' , and 'Snail Shell Pompompurin'.
Players also can collect 18 species of newly updated fish, including 'Silver Chocolate Idol', 'Jelly Turtle', Valentine Whale' and 16 species of hidden fish, including 'Giftbox Dolphin', 'Couple Kissing Gourami'. Now that Valentine's Day has come close, players can look forward to the Valentine season contents, including Valentine costume, potion, theme.
With the surprising collaboration starting, Flero Games prepared a special event for Abyssrium players. Everyone who login Abyssrium can claim the season event coin '10,000 Ribbon' until 8th March. And players can unlock special 'Kuromi' character by completing Valentine's Day quest while playing the game.
Also, SANRIO Characters photo award event will be held from 17th February to 26th February. If players decorate their Abyss tank with Valentine's Day theme and upload it on their social media, winners will be selected in random drawings and get 'Pearl' which is in-game goods.
Abyssrium is the idle mobile game, drawing 50 million players' attention with its beautiful and amazing graphics. For over the last 4 years since its release, Abyssrium, one of the best known relaxing game, has been praised for its successful combination of high quality and unique style.
Abyssrium Pole, Abyssrium's new series, have maintained the top spot in popularity among the major mobile game countries including Japan, China, USA, in the last month when it released, showing the power of Abyssrium's IP once again.
If you are interested in their collaboration and events, you can check the details in Abyssrium's official facebook!
Abyssrium Facebook: https://www.facebook.com/abysssaga/