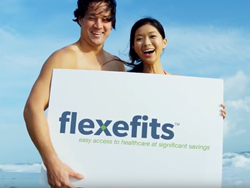 "Anything that puts more control in the hands of patients and leads to better outcomes, we are for."
MORRISTOWN, N.J. (PRWEB) August 03, 2018
Flexefits, a pioneer in direct -pay, direct access health care membership programs, commends the Congress for passing H.R. 6199, especially for its allowing participants in Direct Primary Care arrangements to keep HSA eligibility and permit DPC provider monthly or annual fees to be covered by HSAs (capped at $150 per individual and $300 per family per month.)
"We are very pleased to see the House's action, especially since it passed with a bipartisan margin of 277-142. Hopefully, the Senate will also pass it so it can become law soon," said Peter Gallic, President of Flexefits. "This will greatly benefit those who choose to cut out the middle-man excess in our healthcare system by electing to go directly to a DPC – and especially those who do not have employer provided insurance, such as 1099 income workers like the gig workforce. Right now, they are at a significant tax disadvantage, and the new law will help in that regard" Gallic continued.
While Flexefits and similar direct-pay, fixed rate services plans and membership programs monthly or annual fees are not currently in the bill, the executive suggested it is something that will hopefully come in the near future. "Anything that puts more control in the hands of patients and leads to better outcomes, we are for. And, given that the bill also treats certain sports and fitness expenses-like gym memberships and participation in exercise programs-as qualifying medical expenses, we can see a path toward our industry's membership fees qualifying" Mr. Gallic explained.
As an indirect benefit, final passage that characterizes DPC monthly or annual fees as qualified expenses for tax treatment may slow down or even reverse certain states from defining such plans as insurance, which is seen as impeding the growth of the direct pay movement at large.