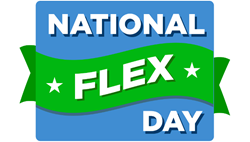 "National Flex Day is a chance for those of us who are concerned with the future of work flexibility to come together and communicate its value as a long-term workplace movement," said Sara Sutton, Founder and CEO of FlexJobs and 1 Million for Work Flexibility
BOULDER, Colo. (PRWEB) October 08, 2018
Today FlexJobs and 1 Million for Work Flexibility (1MFWF) announced they will celebrate National Flex Day on Tuesday, October 16, 2018 by hosting a webinar and month-long contest to raise awareness about the importance of work flexibility. National Flex Day, held during National Work & Family Month, is designed to inspire employers and professionals alike to unite behind the need for work flexibility, bring awareness to the benefits, and move the issue forward on a national scale.
"As 1MFWF marks its 5th anniversary this October, both 1MFWF and FlexJobs are so excited to celebrate National Flex Day as an opportunity for employers and professionals to better understand the critical need for work flexibility and help advocate for flexible work arrangements as a smart, sustainable business strategy," said Sara Sutton, Founder and CEO of FlexJobs and 1 Million for Work Flexibility. "National Flex Day is a chance for those of us who are concerned with the future of work flexibility to come together and communicate its value as a long-term workplace movement."
Activities to celebrate National Flex Day, which can be promoted using the hashtag #NationalFlexDay and tagging @flexjobs and @workflexibility, will include:

An Oct 16th webinar about the benefits of work flexibility and how to get a flexible job, featuring Mohammed Chahdi, Director, Global Human Resources at Dell Technologies; Brie Reynolds, senior career specialist at FlexJobs; and digital nomad Jason Byer (press welcome to attend)
A contest hosted on the FlexJobs blog, open through Wednesday, October 31st. To enter, people answer the question, "How does/would work flexibility make your life better?" on the FlexJobs blog. 35 randomly chosen commenters will win one of 10 $100 gift cards or 25 3-month memberships to FlexJobs. Prizes valued at over $1,700 total.
Twitter polls throughout Tuesday, Oct. 16. Follow @FlexJobs to weigh in!
Discount on FlexJobs for up to 50% off
To showcase the 2018 state of the flexible job marketplace, FlexJobs has also compiled an overview of top companies hiring, the most popular (has had the most job listings since Jan. 1, 2018), career categories, and common jobs for the main types of flexible work arrangements.
Remote:
Top companies hiring for remote jobs: UnitedHealth Group, Robert Half International, AFIRM, Aetna, Dell, Anthem, Inc., SAP, Enterprise Holdings, Leidos, Allergan
Top categories for remote jobs: Sales, Computer & IT, Medical & Health
Common remote jobs:
1. Software Developer - $75,500
2. Project Manager - $72,000
3. Registered Nurse - $62,800
4. Technical Writer - $58,000
5. Account Manager - $52,100
Part-time:
Top companies hiring for part-time jobs: Pearson, Kelly Services, Hilton, Carolinas HealthCare System, RetailData, American Red Cross, Grand Canyon University, Class100, UnitedHealth Group, FlexProfessionals
Top categories for part-time jobs: Education, Administrative, Customer Service
Common part-time jobs:
1. HR Consultant - $40/hour
2. Front End Developer - $29/hour
3. Registered Dietitian - $26/hour
4. ESL Teacher - $20/hour
5. Social Worker - $20/hour
Freelance:
Top companies hiring freelance jobs: Kelly Services, Real Staffing, Kforce, AFIRM, Dahl Consulting, Ajilon, Computer Futures, Onward Search, Paladin, Addison Group
Top categories for freelance jobs: Computer & IT, Editing, HR & Recruiting
Common freelance jobs:
1. UX Designer - $73,000
2. Senior Copywriter - $73,000
3. Database Administrator - $72,000
4. Business Analyst - $60,000
5. School Psychologist - $60,000
People who have access to flexible work would reap a number of important benefits.
According to FlexJobs' 7th annual work flexibility survey of more than 3,000 professionals, workers believe a flexible or remote job can help save money, reduce stress, and help them take better care of themselves.
Top Reasons: Since 2013, work-life balance (76%), family (44%), time savings (42%) and commute stress (42%) have been the top four reported reasons people seek flexible work.
Quality of Life: 45 percent said a job with flexibility would have a huge improvement on their overall quality of life and 52% said it would have a positive impact.
Health and Stress: 77 percent said having a flexible job would allow them to be healthier (eat better, exercise more, etc.) and 86% said they'd be less stressed.
Financial Impact:
1. 86 percent said they think a flexible or telecommuting job would help them save money
2. Work-life balance (73%) was ranked more important than salary (70%) when evaluating a job prospect
3. 61 percent have left or considered leaving a job because it did not have work flexibility
Flexible work options are growing worldwide and can have a big positive impact on the workplace, society, and individuals.
Employer Benefits:
1. 89% of employers worldwide believe flexible working helps their business grow.
2. If every firm in the country adopted work flexibility, the economy could save about $15 billion annually.
3.The number of people who say they've quit a job due to lack of flexibility has nearly doubled from 17% in 2014 to 32% in 2017.
Everyone is encouraged to join the work flexibility movement by adding their name to 1MFWF. For more information please contact Kathy Gardner at kgardner@flexjobs.com.
About FlexJobs
FlexJobs is committed to helping people find a better way to work. As the leading online service for professionals seeking remote, flexible schedule, part-time, and freelance jobs, FlexJobs offers opportunities in over 50 career categories, ranging from entry-level and executive to freelance and full-time. FlexJobs also sets itself apart by providing job seekers with a better, safer, and more efficient way to find professional and legitimate flexible jobs. Having helped over 3 million people in their job searches, FlexJobs has appeared in CNN, CNBC, Time, Forbes, the Wall Street Journal, Fast Company, and hundreds of other trusted media outlets. To further assist people in bettering their lives through flexible and remote work, FlexJobs' founder and CEO, Sara Sutton, has also launched two additional partner sites, Remote.co and 1 Million for Work Flexibility, to help provide education and awareness about the viability and benefits of remote working and work flexibility. Sutton is also the creator of The TRaD* Works Forum (*Telecommuting, Remote, & Distributed), dedicated to helping companies leverage the benefits of telecommuting, remote, and distributed teams.
About 1 Million for Work Flexibility
1 Million for Work Flexibility (1MFWF) is the first national initiative to create a collective voice in support of work flexibility. Launched in 2013, the 1MFWF movement now has more than 100 coalition members including advocacy groups, think tanks, academic institutions, and businesses, as well as thousands of individuals championing the many types of flexible work that lead to happier and healthier workers and also improve the economy.