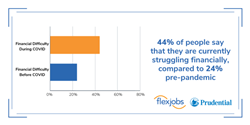 "At FlexJobs, we are deeply aware of how intricately jobs and finances are intertwined, which is why we have partnered with Prudential to gain a better understanding of the challenges that many people are now facing," said Sara Sutton, Founder and CEO of FlexJobs.
BOULDER, Colo. (PRWEB) August 11, 2020
According to a survey of more than 1,100 U.S.-based respondents interested in flexible work, more than half (53%) of people are currently earning half or less of their pre-pandemic income. Approximately one-third (31%) of respondents have lost their entire income since the pandemic started. This survey was conducted by FlexJobs, fielded in partnership with Prudential (1), in late June 2020.
Almost half (46%) say their emergency savings wouldn't last them more than three months and roughly a quarter (24%) said their savings would not even last one month. Overall, 62% of those surveyed do not have enough emergency savings to last six months.
Lack of Financial Wellness:
As a result of the pandemic, many have experienced a significant shift in their financial stability:

44% of respondents reported that they are currently struggling financially, whereas only 24% reported the same thing before the pandemic
21% said they were financially secure before COVID-19, and only 10% say the same thing now.
Immediate Financial Steps Taken:
84% of respondents are taking specific steps regarding their finances, many of which may have a negative long-term impact on their financial health, especially on their retirement planning. Collectively, 1 in 5 respondents made changes to their retirement savings, including stopping or reducing retirement contributions (12%) or withdrawing from their retirement savings (8%).
Other actions that people have taken or plan to take in the next three to six months to address their financial situation as a result of COVID-19 are:

Try to pick-up extra work/hours, looking for sources of additional income (49%)
Build my emergency savings (28%)
File for unemployment (28%)
Delay a major purchase, such as a car (25%)
Use my emergency savings (23%)
"At FlexJobs, we are deeply aware of how intricately jobs and finances are intertwined, which is why we have partnered with Prudential to gain a better understanding of the challenges that many people are now facing," said Sara Sutton, Founder and CEO of FlexJobs. "We also co-hosted a financial wellness educational webinar to help educate workers about financial steps they can take during the pandemic and beyond. For the longer term, we established a financial wellness resource center to support their growing financial literacy and ultimately help them reach their financial goals," Sutton concluded.
Pre-COVID-19 Finances:
The pandemic has only exacerbated tenuous financial conditions for many in the flexible workforce.
Just 30% agreed that they had a good plan in place in case they got sick or needed care in the short-term, and even fewer strongly agreed (12%).
Although over two-thirds say personal financial wellness is a key priority, only 50% agreed that they felt prepared to make informed decisions about their finances. When asked what's keeping them back from feeling well-prepared, respondents cited the following obstacles:
-- Don't know how to evaluate the different options (27%)
-- Don't know what options are even available to them (23%)
-- Didn't have strong role models when it comes to finances (23%)
-- Don't understand the financial terms/jargon used (21%)
-- Not earning enough money (44%), high cost of living expenses (35%) and
too much debt (26%) were the top reported reasons for not meeting
financial goals before COVID-19.

Other factors preventing people from reaching their financial goals included not being disciplined enough about finances (23%), not having enough time to focus on financial goals (16%), and not having access to workplace benefits (e.g., health/dental/vision insurance, paid time off, disability insurance) (15%).
"The pandemic exposed the widening gap between the financially secure and insecure in this country – with people of color, women, younger generations, gig workers, and the retail workforce disproportionately impacted," said Dawn Goldbacher, Vice President of Business Development at Prudential. "Access to protection, savings, education, and employment opportunities through the workplace and other channels are essential to recovery."
Financial Products Accessed:
Respondents indicated that they or their spouses had:
Financial products: 97% have at least one kind of financial product
1. Checking accounts, savings accounts, money market accounts, or certificates
of deposit (93%)
2. Employer-sponsored retirement plan (401(k), 403(b), 457, pension, etc.) (52%)
3. Individual Retirement Account (IRA) that is NOT employer-sponsored (41%)
4. Investment accounts, NOT retirement-related (Individual stocks/bonds,
mutual funds, ETFs, etc.) (31%)
5. Health Savings Account (25%)
6. Education investment or savings account (529, Coverdell, etc.) (10%)
Insurance products: 87% have at least one kind of insurance product
1. Health insurance through an employer (57%)
2. Life insurance through your employer (33%)
3. Life insurance purchased on your own (not through an employer) (31%)
4. Health insurance not purchased through your employer (ACA, private plans,
long-term care, critical illness, etc.) (26%)
5. Disability insurance (14%)
6. None of these (13%)
7. Fixed or Variable Annuity (4%)
Estate planning products: More than half do not have any estate planning products
1. Will, estate plan, or trust (33%)
2. Healthcare proxy, living will, or power of attorney (24%)
3. None (56%)
On the Job Highlights:

46% of full-time employed respondents said their regular job was temporarily being done from home; 20% of total respondents were already working remotely
24% are currently using remote work to supplement their income
If given a choice, 71% would prefer to work remotely full-time once the pandemic is over, and 25% would prefer a combination of remote and office work
56% say they view remote work more favorably as a result of the pandemic
Roughly 1 in 5 (22%) are hoping to find a part-time or side gig to earn supplemental income
*Methodology
Demographic breakdown of the 1,100 U.S.-based respondents interested in flexible work. Gender: female (81%), Male (17%) Prefer not to identify (2%) Ages: 20-39 (29%), 40-59 (53%), 60+ (18%); Education: high school degree or equivalent (4%), some college but no degree (15%), associate or bachelor's degree (48%), graduate degree (33%); Career level: entry-level (11%), experienced (56%), manager (21%), senior level or higher (12%). Household income: Less than less than $50,000 (35%), $50,000 to less than $75,000 (18%); $75,000 to less than $100,000 (17%), $100,000 to less than $150,000 (17%), $150,000+ (13%). 34% of respondents were unemployed and looking for work.
For the full report of the survey, conducted in June 2020, please visit https://www.flexjobs.com/blog/post/flexjobs-prudential-survey-covid-19-personal-finances/ or contact Kathy Gardner at kgardner@flexjobs.com for more information.
(1) Financial wellness content, tools and solutions are provided through Prudential Workplace Solutions Group Services, LLC ("PWSGS"). PWSGS is a subsidiary of Prudential Financial, Inc. PWSGS is not a licensed insurance company, does not provide insurance products or services, and does not provide investment or other advice. For more information, visit http://www.prudential.com/flexjobs.
About FlexJobs
FlexJobs is a premium online job service for professionals seeking flexible work, specializing in full-time and part-time remote jobs, employee and freelance jobs, and on-site jobs with flexible, part-time, and alternative schedules. Since its start in 2007, FlexJobs has helped more than 4 million people in their job searches and has created the largest vetted database of legitimate flexible job opportunities in over 50 career categories. In addition, FlexJobs provides robust career support, including curated expert resources and career coaching services, to partner with job seekers in all phases of their journey. A trusted source in the media, FlexJobs has been cited in top national outlets such as CNN, Wall Street Journal, New York Times, CNBC, Forbes, and many others. FlexJobs' Founder & CEO Sara Sutton has also launched two additional partner sites, Remote.co and 1 Million for Work Flexibility, to help provide education and awareness about the viability and benefits of flexible work. Sutton is the creator of The TRaD* Works Forum (*Telecommuting, Remote, & Distributed), dedicated to helping companies leverage the benefits of telecommuting, remote and distributed teams.
About Prudential Financial
Prudential Financial, Inc. (NYSE:PRU), a financial wellness leader and premier active global investment manager with more than $1 trillion in assets under management as of March 31, 2020, has operations in the United States, Asia, Europe, and Latin America. Prudential's diverse and talented employees help to make lives better by creating financial opportunity for more people. Prudential's iconic Rock symbol has stood for strength, stability, expertise and innovation for more than a century. For more information and additional research on Americans' financial health before and during the COVID19 crisis, please visit Prudential.com/Census.