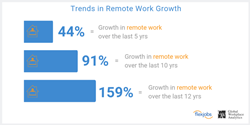 "The most notable change we've seen over the past year is not so much the growth in the sheer volume of remote job listings, but the growth in the variety of remote job titles these companies are seeking to hire," said Sara Sutton, founder, and CEO of FlexJobs.
BOULDER, Colo. (PRWEB) January 15, 2020
Today FlexJobs released its 7th annual list of the Top 100 Companies to Watch for Remote Jobs in 2020. This list is based on an analysis of over 54,000 companies and their remote job posting histories in the FlexJobs database between January 1, 2019, and December 31, 2019. These 100 companies had the highest number of remote job openings throughout 2019. A "remote job" is defined as a professional-level job that allows the worker to work from home either entirely or part of the time. Remote jobs are also known as telecommuting jobs, virtual jobs, and work-from-home jobs. Overall, the number of people telecommuting in the U.S. has increased 159% since 2005.
Healthcare and computer/IT continue to be the most promising career fields for remote-friendly jobs, while the education industry has also enjoyed sustained growth in its remote job opportunities. Sales and customer service remain strong prospects for remote jobs, with virtual assistants, in particular, seeing higher demand. Remote work is also being more widely adopted across the fields of business, accounting, and finance.
"The most notable change we've seen over the past year is not so much the growth in the sheer volume of remote job listings, but the growth in the variety of remote job titles these companies are seeking to hire," said Sara Sutton, founder, and CEO of FlexJobs. "Companies are expanding the range of professional positions they're allowing to work from home. It's important to keep in mind that this list represents the jobs that are only formally reported and advertised as remote. I believe the true scope of remote work is much larger, with informal and ad hoc work-from-home arrangements increasingly common. Of course, all of this is ultimately fantastic news for remote job seekers across all career fields and levels," Sutton concluded.
Appen earned the number one spot on the 2020 Top 100 list, with companies such as Williams-Sonoma and Kelly Services among the top ten companies with the highest number of remote jobs posted in 2019. Some, such as Achieve Test Prep and World Travel Holdings are newcomers to FlexJobs' annual Top 100 list, while others, such as Hilton, Sodexo, and VMware were also on last year's list. Dell, SAP, and UnitedHealth Group are among the twenty that have been featured on the list since 2014, showing a sustained commitment to including remote work in their standard business practices. These companies are headquartered across nine different countries, demonstrating a global acceptance and adoption of remote work.
Based on this list, the top six career fields hiring for remote jobs are:
1. Medical & Health
2. Computer & IT
3. Customer Service
4. Education & Training
5. Sales
6. Accounting & Finance
Seven fast-growing remote career categories are Art & Creative, Bookkeeping, Internet & Ecommerce, K-12, Graphic Design, Translation, and Math & Economics. While a wide variety of jobs can be done from home, some of the most popular remote job titles include accountant, customer service representative, nurse, project manager, recruiter, teacher, web developer, and writer.
On January 30th, FlexJobs will host a Remote Work Virtual Job Fair where job seekers will have the opportunity to meet many employers on this year's Top 100 list, such as Appen, Hilton, and Working Solutions, to learn about their current remote job openings
Remote work brings very real benefits to both employers and workers. While the average person can save about $4,000 a year by working from home, employers experience a wide range of benefits from remote work as well. Cost savings, access to a greater talent pool, stronger retention rates, and higher productivity are a few of the compelling reasons companies are strategically integrating remote workers into their workforce.
"As a company whose mission is quality of life, Sodexo remains focused on fostering a flexible work environment through our FLOW (Flexibility Optimizes Work) practices," said Jodi Davidson, Vice President, Diversity & Inclusion at Sodexo. "By demonstrating this collaborative and respectful approach, employees are able to maximize their contributions while simultaneously addressing personal life circumstances. Our efforts to meet the unique needs of each individual is critical today, and is becoming increasingly necessary as we look towards the future of work," Davidson concluded.
"VMware has a long history of enabling remote work," said Susan Insley, Vice President of Human Resources at VMware. "We are so passionate about creating an environment where our employees can do their best work and thrive that we have created a team that helps our customers maximize their employee experience as well. As a company, we provide the software solutions that help our customers create secure, flexible, remote work solutions. We use those same solutions internally, and this helps us tap into new global talent. And with our acquisitions of Heptio, Carbon Black and Pivotal, we've again increased our remote worker population in a big way. VMware is rated as a top place to work by Fortune, Computerworld, Glassdoor and others, and in 2019 our CEO was named by Glassdoor as Best CEO in America. This was largely in part to his encouragement of new ideas and innovation and his leadership approach, which challenges all our leaders to focus on how they can most effectively enable employees to excel, no matter where they are. Remote work not only represents a great talent pool, but it also helps us access the diverse talent critical to our success," Insley concluded.
To view the entire 2020 Top 100 Companies for Remote Jobs list, please visit https://www.flexjobs.com/blog/post/100-top-companies-with-remote-jobs-2020/ or contact Kathy Gardner at kgardner@flexjobs.com for more information. To register for the Remote Work Job Fair, please visit https://flexjobs.vfairs.com/
About FlexJobs
FlexJobs is a premium online job service for professionals seeking flexible work, specializing in full-time and part-time remote jobs, employee and freelance jobs, and on-site jobs with flexible, part-time, and alternative schedules. Since its start in 2007, FlexJobs has helped more than 4 million people in their job searches and has created the largest vetted database of legitimate flexible job opportunities in over 50 career categories. In addition, FlexJobs provides robust career support, including curated expert resources and career coaching services, to partner with job seekers in all phases of their journey. A trusted source in the media, FlexJobs has been cited in top national outlets such as CNN, Wall Street Journal, New York Times, CNBC, Forbes, and many others. FlexJobs' Founder & CEO Sara Sutton has also launched two additional partner sites, Remote.co and 1 Million for Work Flexibility, to help provide education and awareness about the viability and benefits of flexible work. Sutton is the creator of The TRaD* Works Forum (*Telecommuting, Remote, & Distributed), dedicated to helping companies leverage the benefits of telecommuting, remote and distributed teams.