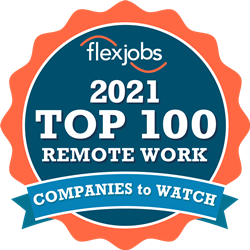 "Business models have been forever disrupted with the realization that remote work is smart, strategic, and sustainable for companies to embrace, improving not only the bottom line but also providing benefits to the overall workforce,"said Sara Sutton, Founder and CEO of FlexJobs.
BOULDER, Colo. (PRWEB) January 12, 2021
Today FlexJobs released its 8th annual list of the Top 100 Companies to Watch for Remote Jobs in 2021. This list is based on an analysis of approximately 57,000 companies and their remote job posting histories in the FlexJobs database between January 1, 2020 and December 31, 2020. These 100 companies had the highest number of remote job openings throughout 2020. A "remote job" is defined as a professional-level job that allows the worker to work from home either entirely or part of the time. Remote jobs are also known as telecommuting jobs, virtual jobs, and work-from-home jobs.
Computer/IT and healthcare continue to be the most promising career fields for remote-friendly jobs, while the financial industry has also enjoyed sustained growth of remote job opportunities. Customer service and sales remain strong prospects for remote jobs, overall.
"The coronavirus pandemic has permanently reshaped the workplace and how, when, and where people work," said Sara Sutton, Founder and CEO of FlexJobs. "Business models have been forever disrupted with the realization that remote work is smart, strategic, and sustainable for companies to embrace, improving not only the bottom line but also providing benefits to the overall workforce."
"FlexJobs has been compiling our Top 100 Companies to Watch for Remote Work list since 2014, and although the circumstances for the rapid and massive adoption of its practices are extremely unfortunate, we are excited to see so many more organizations deeply integrating remote work both now and for the future," Sutton concluded.
Lionbridge earned the number one spot on the 2021 Top 100 list, with companies such as Williams-Sonoma and Sutherland Global Services among the top 10 companies with the highest number of remote jobs posted in 2020. Some, such as Pfizer and Supporting Strategies are newcomers to FlexJobs' annual Top 100 list, while others, such as ADP, Belay, and Kelly Services/Kelly Connect were also on last year's list. Dell Technologies, CVS Health, and Salesforce are among the 11 that have been featured on the list since 2014, showing a sustained commitment to including remote work in their standard business practices. Nineteen companies on this list are part of The Department of Defense Military Spouse Employment Partnership (MSEP) which connects military spouses with employers who have committed to recruit, hire, promote, and retain them. The companies on the top 100 list are headquartered across 11 different countries.
The top career fields hiring for remote jobs during 2020 were:
1. Computer & IT
2. Medical & Health
3. Project Management
4. Sales
5. Accounting & Finance
6. Customer Service
7. Marketing
Citrix, which is new to FlexJobs' annual list of top companies for remote work, is a great example of a company that has embraced the value of remote work. During the COVID-19 pandemic, the company shifted its own long-term remote work strategy to ensure its workforce was equipped to meet the needs of not only its customers but also its workforce.
"I am proud that Citrix has landed on FlexJobs' Top 100 list this year, as we have navigated the challenges that the past twelve months has brought to our company, our customers and the nation overall," said Steve Nguyen, Vice President and General Manager at Citrix, US Public Sector. "I look forward to continuing expanding our flexible and remote employment opportunities and evolving the Future of Work for ourselves, and for our customers alike," Nguyen concluded.
Some of the fast-growing career categories for remote jobs, each having increased 25% from March 2020 over December 2020 include:
1. Marketing
2. Administrative
3. HR & Recruiting
4. Accounting & Financing
5. Graphic Design
6. Customer Service
7. Writing
8. Mortgage & Real Estate
9. Internet & Ecommerce
10. Project Management
While a wide variety of jobs can be done from home, some of the most popular remote job titles include accountant, customer service representative, nurse, project manager, recruiter, teacher, web developer, and writer.
According to a FlexJobs survey of approximately 4,000 people who have been working remotely during the pandemic, 95% report they have been as productive or much more productive working from home than they were in the traditional office. 65% would prefer to work remotely full-time post-pandemic, while 31% would like a combination of remote and in-office work. 4% would prefer to return to the traditional office full-time.
The average person can save about $4,000 a year by working from home, and employers experience a wide range of benefits from remote work as well. Cost savings, access to a greater talent pool, stronger retention rates, and higher productivity are a few of the compelling reasons companies are strategically integrating remote workers into their workforce.
Job seekers are invited to attend a free webinar to learn about key strategies for searching for a remote job and evaluating remote job opportunities. The webinar is hosted by the FlexJobs career coaching team and will take place on Tuesday, January 19th at 2pm ET.
To view the entire 2021 Top 100 Companies for Remote Jobs list, please visit https://www.flexjobs.com/blog/post/100-top-companies-with-remote-jobs-2021/ or contact Katie Gilronan at kgilronan@flexjobs.com for more information.
About FlexJobs
FlexJobs is a premium online job service for professionals seeking flexible work, specializing in full-time and part-time remote jobs, employee and freelance jobs, and on-site jobs with flexible, part-time, and alternative schedules. Since its start in 2007, FlexJobs has helped more than 4 million people in their job searches and has created the largest vetted database of legitimate flexible job opportunities in over 50 career categories. In addition, FlexJobs provides robust ongoing career support including curated expert resources and career coaching services to partner with job seekers in all phases of their journey. A trusted source in the media, FlexJobs has been cited in top national outlets such as CNN, Wall Street Journal, New York Times, CNBC, Forbes, and many others. FlexJobs' Founder & CEO Sara Sutton has also launched two additional partner sites, Remote.co and 1 Million for Work Flexibility, to help provide education and awareness about the viability and benefits of flexible work. Sutton is the creator of The TRaD* Works Forum (*Telecommuting, Remote, & Distributed), dedicated to helping companies leverage the benefits of telecommuting, remote and distributed teams.