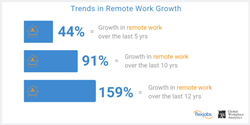 "As more and more people join the remote workforce, its impact on people, communities, and the environment will only continue to increase," said Sara Sutton, Founder, and CEO of FlexJobs.
BOULDER, Colo. (PRWEB) February 24, 2020
To demonstrate the broad growth and impact of remote work,FlexJobs, the leader in remote and flexible jobs, has compiled key statistics detailing the current state of remote work in today's workplace. Working outside of their company's main location and having a choice of work environment is now a key factor for many job seekers when evaluating new career opportunities. In fact, 74% believe that flexible working has become the "new normal." Below FlexJobs has compiled a set of intriguing remote work data points that indicate the far-reaching benefits of remote work across the board, ranging from real estate to environmental to bottom-line benchmarks.
"Most of the discussions about remote work centers around the positive impact that workers and companies experience, but there are also a number of compelling broader economic, societal, and environmental benefits to this future of workplace trend," said Sara Sutton, Founder, and CEO of FlexJobs. "In fact, remote work helps support eight of the UN's Sustainable Development Goals. As more and more people join the remote workforce, its impact on people, communities, and the environment will only continue to increase," Sutton concluded.
Remote Work Is Increasing

A special analysis done by FlexJobs and Global Workplace Analytics found that there has been a major upward trend in the amount of people working remotely in the U.S. In the span of one year, from 2016 to 2017, remote work grew 7.9%. Over the last five years, it grew 44% and over the previous 10 years it grew 91%.
Between 2005 to 2017, there was a 159% increase in remote work. In 2015, 3.9 million U.S. workers were working remotely. Today that number is 4.7 million, or 3.4% of the population.
Remote Work is Impacting Real Estate

In a recent report from Zillow, more than half of homebuyers who work remotely say remote work influenced a major home change, whether that's moving to a different house (28%) or to a different location (24%).
Additionally, 30% of homebuyers indicated that a commute between 15 and 29 minutes was their max. And only 12% of homebuyers said they were willing to commute an hour or more.
Furthermore, 62% of Gen Z and millennial homebuyers work remotely at least one day per week. Remote work gives the two youngest generations in the workforce more options with where they live and reduces the necessity to live near large metropolitan city centers.
Remote Work Is Environmentally Friendly

Flexible work, especially working from home, reduces traffic congestion, air pollution, and road wear and tear with either a reduced or eliminated commute into an office.
According to the "2017 State of Telecommuting in the U.S. Employee Workforce" report: "Existing telecommuters reduce greenhouse gas emissions by the equivalent of taking over 600,000 cars off the road for a year. If the work-at-home workforce expanded to include those who could and wanted to telecommute half of the time, the GHG savings would equate to taking 10 million cars off the road."
Remote Work Is More Prevalent in Certain Areas

In an article by Pragli, a virtual office product for remote teams, remote work was found to be more common in cities with high income levels. Why? "Remote work positions tend to be knowledge work that pays higher salaries, such as software engineering and accounting."
Pragli also found that locations with small remote populations generally have industries "with physical work constraints, such as agriculture and manufacturing." Many blue-collar jobs like this simply cannot be done from a home office.
Remote Workers Make More Money

According to a report done collaboratively with FlexJobs and Global Workplace Analytics, the average annual income for most telecommuters is $4,000 higher than that of non-telecommuters.
Add to that the ability to save more money—FlexJobs estimates $4,000 a year—and remote workers come out on top.
In the State of Remote Work 2019 survey, that trend continued: "The salary breakdown of remote workers surveyed was 74% earning less than $100k per year, and 26% earning more than $100k per year. In comparison, the on-site worker's salary breakdown was 92% earning less than $100,000 per year, 8% earn over $100k per year."
Remote Work Attracts and Retains Talent

80% of U.S. workers say they would turn down a job that didn't offer flexible working, and it's so important to them that more than a third say they would prioritize such arrangements over having a more prestigious role.
In another survey, more than three-fourths of respondents cited flexible schedules and remote work as the most effective non-monetary ways to retain employees.
Remote Work Is Good for Business

Among performance-based remote work statistics, 85% of businesses confirm that productivity has increased in their company because of greater flexibility.
Additionally, 90% of employees say allowing for more flexible work arrangements and schedules would increase employee morale, while 77% say allowing employees to work remotely may lead to lower operating costs.
Remote Work Increases Job Satisfaction

Amerisleep's study of 1,001 remote workers found that they are 57% more likely than the average American to be satisfied with their job.
Plus, nearly 80% of respondents described their typical stress level during the workweek as either "not stressed" or only "moderately stressed."
Remote Workers Are More Productive

FlexJobs' annual survey found that 65% of respondents are more productive in their home office than in a traditional workplace. Fewer distractions and interruptions, less stress from no commute, minimal office politics, and a personalized, quiet environment are all contributors to a more productive remote worker.
In another survey, 47% said they strongly agree that flexible work arrangements "would or do allow me to be more productive" and 31% said they somewhat agree.
Remote Workers Can Be Healthier

Remote workers tend to take less sick days, likely due to less exposure to germs in a typical office. According to Indeed's Remote Work Survey, 50% of remote employees said working from home reduced their sick days and 56% said it reduced their absences.
In FlexJobs' Work-Life-Relationship survey, 86% of respondents think a flexible job would reduce their stress, and 89% said they think they would be able to take better care of themselves.
Flexible work options can also help workers manage mental illness and keep them in the workforce during difficult life events.
Remote Workers Stick with It

Remote workers have longevity. According to the Remote Work Report, "42% of people who are 100% remote said they have been working remotely for more than 5 years.
28% said they have been working remotely for 3 to 5 years. 19% said they have been working remotely for 1 to 2 years. And 11% said they had been working remotely for less than a year."
Remote Work Is Here to Stay

Finally, in a study conducted by Condeco Software, 41% of global businesses surveyed say they already offer some degree of remote working, while 60% provide flextime opportunities that allow employees to choose when to start and end their workday. Upwork's "Future Workforce Report" predicts that 73% of all teams will have remote workers by 2028.
And it's a good thing, too, since 75% of current teleworkers say they plan to work remotely for the rest of their career!
To learn more, visit https://www.flexjobs.com/blog/post/remote-work-statistics/ or please contact Kathy Gardner at kgardner@flexjobs.com.
About FlexJobs
FlexJobs is a premium online job service for professionals seeking flexible work, specializing in full-time and part-time remote jobs, employee and freelance jobs, and on-site jobs with flexible, part-time, and alternative schedules. Since its start in 2007, FlexJobs has helped more than 4 million people in their job searches and has created the largest vetted database of legitimate flexible job opportunities in over 50 career categories. In addition, FlexJobs provides robust career support, including curated expert resources and career coaching services, to partner with job seekers in all phases of their journey. A trusted source in the media, FlexJobs has been cited in top national outlets such as CNN, Wall Street Journal, New York Times, CNBC, Forbes, and many others. FlexJobs' Founder & CEO Sara Sutton has also launched two additional partner sites, Remote.co and 1 Million for Work Flexibility, to help provide education and awareness about the viability and benefits of flexible work. Sutton is the creator of The TRaD* Works Forum (*Telecommuting, Remote, & Distributed), dedicated to helping companies leverage the benefits of telecommuting, remote and distributed teams.