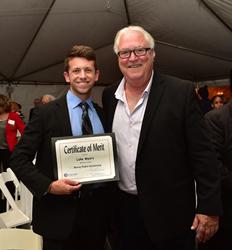 We look forward to our role as a Platinum Plus sponsor of Flight Path Museum LAX and to partnering with the museum on critical work to identify and empower the next generation of aviators.
LOS ANGELES (PRWEB) May 20, 2021
Important new airline support for its educational mission and scholarship program was announced this week by the Flight Path Museum at Los Angeles International Airport (LAX). Atlas Air Worldwide companies, Atlas Air and Polar Air Cargo Worldwide, have become Platinum Plus-level sponsors and have introduced two $2,500 youth scholarships through the museum's annual competitive scholarship program.
"This significant and much appreciated contribution from Atlas Air and Polar Air Cargo Worldwide is a welcome vote of confidence in our mission," said Agnes Huff, PhD, president, Board of Directors for Flight Path Museum LAX. "As we prepare the museum to reopen in the near future, we are grateful for the opportunity to collaborate with Atlas and Polar to further expand educational opportunities that help make it possible for students to learn about and enter the field of aviation."
Atlas Air Worldwide is a global leader in innovative, outsourced aviation services providing express and e-commerce delivery providers, shippers, freight forwarders, airlines, military, charter, and dry-lease services worldwide. Atlas Air offers long and short-term cargo and passenger solutions around the world, with an active LAX hub.
"We look forward to our role as a Platinum Plus sponsor of Flight Path Museum and to partnering with the museum on critical work to identify and empower the next generation of aviators," said John Dietrich, President & CEO, Atlas Air Worldwide. "At Atlas Air, we know the value of a talented and diverse workforce and we are excited to offer a scholarship to students studying in aviation, STEM, and related disciplines, including air cargo. Airfreight is a significant pillar in our nation's supply chain; its speed and flexibility fuels large industries and small businesses, and rapidly delivers high-value and time-critical cargo."
Polar has served the air cargo industry for more than 25 years and is a major carrier at LAX. A joint venture of Atlas Air and DHL Express, Polar was recently named "Best All Cargo Carrier" by Asia Cargo News.
"The air cargo world is rapidly evolving and needs new, different skills and knowledge compared with a decade ago," said Lars Winkelbauer, Executive Vice President and Chief Operating Officer, Polar Air Cargo Worldwide. "Roles like pilot, load master, and ground operations are exciting and brimming with opportunity; at the same time, skills in big data, finance, technology and marketing are equally important to help evolve the industry. The future is bright, and we are thrilled to partner with Atlas and Flight Path Museum to encourage students to follow their passion for aviation."
As Flight Path Platinum Members, Atlas and Polar will be included on the museum's Wall of Honor, receive special recognition at museum events and in communications, and will be offered display opportunities in the museum's galleries.
About Atlas Air Worldwide:
Atlas Air Worldwide is a leading global provider of outsourced aircraft and aviation operating services. It is the parent company of Atlas Air, Inc., Southern Air Holdings, Inc. and Titan Aviation Holdings, Inc., and is the majority shareholder of Polar Air Cargo Worldwide, Inc. Our companies operate the world's largest fleet of 747 freighter aircraft and provide customers the broadest array of Boeing 747, 777, 767 and 737 aircraft for domestic, regional and international cargo and passenger operations. More information is available at http://www.atlasairworldwide.com. Follow Atlas at @AtlasAir on LinkedIn, @AtlasAirWW on Twitter, and @AtlasAirWorldwide on Instagram.
About Polar Air Cargo Worldwide:
Making connections is Polar Air Cargo Worldwide's purpose -- connecting cargo with its destination, connecting with customers to provide logistics solutions, and connecting with the company's teams around the world to drive growth and success. Polar is the trusted choice for unmatched on-time performance for time-definite airport-to-airport scheduled air cargo service, and unparalleled ability for unique specialized transport. With a modern, efficient and flexible all-Boeing fleet, Polar sets the standard and helps customers grow by opening new doors to new markets for their goods. More information is available at http://www.polaraircargo.com Follow Polar on LinkedIn at @PolarAirCargo, on Twitter at @PolarAirCargo and on Instagram at @polaraircargoworldwide.
About Flight Path Museum:
Flight Path Museum, located in the LAX Imperial Terminal, is temporarily closed due to the pandemic. The museum is operated by nonprofit Flight Path in cooperation with Los Angeles World Airports, the agency which operates Los Angeles International Airport. Flight Path's mission includes the preservation of Southern California's aviation heritage as well as encouragement and assistance to those pursuing education and careers in aviation and aerospace. For information visit the website at http://www.flightpathlax.com or follow us at Facebook, Instagram, and Twitter.