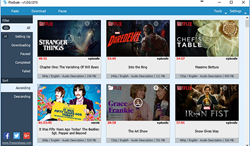 Netflix started its business by distributing DVDs by mail to its clientele, though this service is still provided by the Netflix. The company has expanded a lot with a whopping 125 million subscribers worldwide.
NEW YORK (PRWEB) July 22, 2018
Features of FlixGrab (https://www.freegrabapp.com/flixgrab)
FlixGrab naturally is a video downloader but is not limited to that only. It has a bouquet of features that make the user's downloading experience hassle-free.
Its top features include:

It is user-friendly tool having innovative interface and dashboard.
It offers a wide range of picture quality. It offers picture quality from 1080p to 240p. To save the data, users can go for 240p picture quality too.
Users can also download Dolby Digital Surround Audio 5.1 along with FlixGrab. This will provide improved audio and video clarity.
There is also an option to download even the subtitles along with the movie/TV show.
For the videos that are in other languages, FlixGrab offers subtitles in TTML format so that users can watch other languages movies too.
Best voice quality and language gets automatically selected by the app.
Users can pause and resume downloading whenever they want.
The best feature of FlixGrab is that a bunch of videos can be downloaded at the same time with a great speed.
Installation of the app is very easy and convenient.
Steps to Use FlixGrab
Using FlixGrab is very easy, it follows only four steps.
But before proceeding, first login with your Netflix credentials in FlixGrab app.
1: From Netflix, copy the URL of the video that you want to download.
STEP 2: After copying the URL, open FlixGrab and paste the URL by clicking on the "Paste" button at the top left corner.
STEP 3: After pasting the URL, the app with fetch the information about the URL and will verify it. Once it is done, the download button will become active. You can click on the download button to begin the downloading procedure. FlixGrab itself chooses the best format and quality but users can change it as per their wish.
In case if you want to change the default settings, you can change it clicking the gear icon as shown in the below image:
STEP 4: Once the downloading is done, you can play the video to check the quality and afterwards can enjoy it.
Steps to Download Subtitles
You can even download the subtitles along with the movie or TV show you are downloading. In this software, you can download almost any language subtitles which is available in Netflix. By default through the settings option, you can set the default subtitle language that you want to be downloaded along with the video.
As you can see in the above image, "None" will be selected by default. But you can change it as per your wish to any other language.
Now for every Netflix video you are downloading, you will have the option to choose the desired subtitle. By default, the subtitles will get downloaded in TTML format which is supported by all media players.
Other Features of FlixGrab
1). Bulk Download Option: Instead of downloading your favourite videos one by one, you can download all of them in single process by using the Load List option.
2). Audio Format Customizer: By default FlixGrab will use the default audio format but in case if you want it to customize, you can do so by using the "Audio Selector" option.
Note: This downloading is done under Netflix copyright and is for the personal entertainment and should not be shared with some third person or else it would be considered illegal.