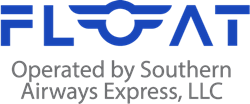 "Learning to fly was a life-changing event for me, and now I hope to be a part of a life-changing urban aviation revolution, taking people out of their cars and flying them to and from their work. FLOAT is a game-changer." Rob McKinney, FLOAT President and COO
LA VERNE, Calif. (PRWEB) January 09, 2020
FLOAT (Fly Over All Traffic), an innovative and groundbreaking commuter flight service debuting in the Los Angeles market, is proud to announce that it has named aviation veteran and pilot, and former President of Mokulele Airlines, Rob McKinney as its President and Chief Operating Officer.
"Rob has been instrumental in getting FLOAT off the ground - literally and figuratively," said FLOAT co-founder Arnel Guiang. "His experience as a pilot and as an aviation executive is invaluable to the FLOAT team. He has started airlines, run airlines, flown the rich and famous on Lear Jets, and now he is sharing his insights on all things aviation and airline customer service to ensure a successful take-off of our dynamic company."
FLOAT is a revolutionary, one-of-kind aviation commuter solution for Supercommuters - those driving at least 90 minutes to and from work - in Southern California. FLOAT will soon be revealing the routes for commuters. These routes will leverage a network of nearly 40 airports across Southern California.
McKinney knows many of these routes well. McKinney has been flying for more than three decades. While most teens spend their 16th birthday learning to drive, McKinney was learning to fly.
"I flew solo for the first time at 16, and when I turned downwind and looked across the horizon, I realized what a beautiful and large world we live in," said McKinney. "Learning to fly was a life-changing event for me, and now I hope to be a part of a life-changing urban aviation revolution, taking people out of their cars and flying them to and from their work. FLOAT is a game-changer."
To learn more about FLOAT's charter service and routes, we invite people to continue monitoring FLOAT's website: https://www.floatshuttle.com
==================================================================
About FLOAT:
FLOAT (Fly Over All Traffic) is the innovative commuting concept founded by partners Arnel Guiang, Tom Hsieh, and Rob McKinney. FLOAT aims to service hundreds of thousands of Super Commuters traveling at least 90 minutes between home and work daily. FLOAT wants to restore the imbalance of the work/life structure experienced by Southern Californians who face added commute hours on top of their traditional 8-hour workday. After launching in the Southern California market, FLOAT aims toward exploring operations in other high-traffic, Super-Commuting-dense markets in the future. To learn more about FLOAT, please visit FloatShuttle.com.
#######
Contact: Lisa Walker
Title: Marketing Advisor
Email: Lisa@FloatShuttle.com
Phone: 949-275-1830