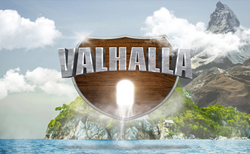 "The team is extremely excited to bring the first 3D blockchain metaverse game implementing upgradeable on-chain NFT interactions in a play-to-earn environment. This is an industry first."
KANSAS CITY, Mo. (PRWEB) September 03, 2021
Floki Inu, as part of its effort in continuing to build out utility to its token, has unveiled its flagship project named Valhalla. Valhalla is an NFT metaverse game run on the Floki Inu token.
Non-Fungible Tokens, or NFTs, have transitioned from being a lesser known, side show, to the crypto world, to becoming one of the most significant pieces of the crypto industry. One of the ways NFTs are now being leveraged is to give power back to gamers. Valhalla seeks to provide gamers with a fun and immersive experience that they can fully own and profit from.
About the Game:
Valhalla is the 3D blockchain metaverse game which will implement upgradeable on-chain NFT interactions in a play-to-earn environment. This is an industry first move.
Floki Island is overrun by Vera. Vera, short for "vera til" or "to be obtainable" in Old Norse, are the upgradeable creature NFTs, available in more than one quadrillion variations, that can be found in the world of Valhalla. Vera can be captured or purchased from other players and can be used in the game's turn-based battling system.
In addition to capturing and battling Vera, players are able to explore the vast world of Valhalla. Floki Island is not in isolation. It is part of the larger metaverse filled with a collection of islands to raid. Yes, raid. You are a Viking, of course. Raiding other islands is made possible with the ship system in Valhalla. Ships are fully customizable NFTs that can be purchased in-game or from other players.
If exploring, battling, or raiding aren't appealing, Vikings also farm. In order for players to raid other islands with their ship, they must have enough food for the journey. Accordingly, players can either purchase food from within the game, or they can take advantage of the farming component of Valhalla's gameplay. This also adds another play to earn mechanic to Valhalla, by giving players the ability to sell the food that they grow to other players that need it to raid other islands. The gardening system in Valhalla is being developed with the cooperation of the Million Garden Movement, a Kimbal Musk project that recently partnered with Floki Inu.
In summary, Valhalla is a fully immersive onchain NFT metaverse that allows players to interact with one another while exploring and raiding the islands of Valhalla. Players are rewarded for playing with multiple different ways to profit from simply playing the game. Valhalla solves many issues with traditional games by giving players full control and ownership over their characters and what they acquire within the game.
About Floki Inu:
Floki Inu is a movement token inspired by an Elon Musk tweet in which he says his Shiba Inu will be named Floki Inu. Floki Inu is striving to provide clear and beneficial utility to its token, all while cultivating a vibrant community around one of the most exciting memes in the crypto space. Floki Inu completes the doge coin trilogy. Dogecoin was the beginning. Shiba Inu coin created a token around a specific breed of dog. Floki Inu creates a token around a specific dog identity.
Website: https://theflokiinu.com/
Twitter: https://twitter.com/RealFlokiInu
Full Article: https://realflokiinu.medium.com/floki-inu-unveils-its-flagship-utility-product-an-onchain-nft-gaming-metaverse-capture-battle-fd02e56da878