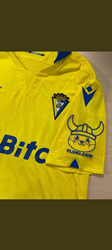 KANSAS CITY, Mo. (PRWEB) November 19, 2021
The partnerships, which take effect immediately, will continue to push FLOKI into the mainstream. Cádiz is one of the oldest football clubs in La Liga and a very familiar brand in Spain. The FLOKI logo and website will be featured on their Jersey sleeve for the rest of this season (which lasts until May 2022) and there will be a LED display of FLOKI's brand and website during all of Cádiz's home games as well as on their fan-focused promotional assets.
Cádiz will be playing with giants that include Atletico Madrid, Barcelona, and Real Madrid this season and the FLOKI brand will benefit from the massive exposure that the audience of these great football leagues attract. La Liga is the third biggest professional football league in the world with a cumulative audience of over 2.8 billion global viewers during its peak season, and this partnership will truly push FLOKI mainstream and get all eyes on the FLOKI brand where it truly matters.
In addition to Cádiz, FLOKI will be Kerala Blasters' sleeve sponsor for the upcoming season of the Indian Super League (ISL). The partnership will also result in the FLOKI brand being LED displayed at all home matches along with other fan focused promotional assets.
The Indian Super League is the fifth most popular football league in the world with over 130 million passionate fans. FLOKI's strategic partnership with Kerala Blasters FC will help FLOKI go mainstream in India and introduce the FLOKI brand to over 100 million ISL fans all over the world.
About Floki
Floki Inu is a movement token inspired by an Elon Musk tweet in which he says his Shiba Inu will be named Floki Inu. Floki Inu is striving to provide clear and beneficial utility to its token, all while cultivating a vibrant community around one of the most exciting memes in the crypto space. Floki Inu completes the doge coin trilogy. Dogecoin was the beginning. Shiba Inu coin created a token around a specific breed of dog. Floki Inu creates a token around a specific dog identity.
Website: https://www.floki.com/
Twitter: https://twitter.com/RealFlokiInu