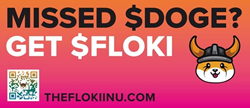 KANSAS CITY, Mo. (PRWEB) November 17, 2021
The most recent push against Floki comes from James Tapper from the Observer calling for a ban of Floki ads in the United Kingdom. Although admitting that there is "no evidence" that Floki is a scam, Mr. Tapper equates Floki to a "pump and dump." The only evidence of this claim is that "digital tokens can be used in 'pump and dump scams.'"
That's it. The long and short of the article is that because some other tokens might be scams, advertisements for Floki, and all other cryptocurrencies, must be banned.
Mr. Tapper continues his article by taking a jab at the anonymity of Floki's team. Even if it were true that Floki's team is all anonymous--which is easily disproved with just a little bit of due diligence--it doesn't matter. As so eloquently stated by one of the Floki project leaders, B (the Viking), a basic tenet of cryptocurrency, from its inception, is that it should be trustless and decentralized. There is a serious centralization risk if the identity of a team influences the perception of a cryptocurrency. No one knows who Satoshi is to this day. For those new to cryptocurrency, Satoshi is the pseudonym of Bitcoin's creator. Additionally, Shib is the third most popular cryptocurrency despite having an anonymous developer. Anonymity is not new to crypto, and some might even argue that anonymity is beneficial to cryptocurrency.
That all being said, it is not even true that Floki is led by a bunch of anonymous individuals. The lead developer of Floki is Jackie Xu, who is well regarded in the industry and once worked on the Vyper project alongside Ethereum creator Vitalik Buterin. What's more is that Floki's head of marketing and one of its core strategists, Sabre, has invited many critics to meet him at his office in the United Kingdom to discuss their concerns.
Just like Bitcoin, and Ethereum, and Doge, and Shib, and all of the other cryptocurrencies before it, people bash what they fear or don't understand. The simple truth is that Floki is a movement.
Floki recently announced that it is working with Pencils for Promise, where it has committed to build schools in every underdeveloped country. As the community has willed, Floki is giving back in more ways than one.
Floki also has utility. Floki is building an NFT play-to-earn metaverse that will be run on the Floki token. This seeks to be an innovative and industry disruptive project. Was there negative press on Starlink, Axie Infinity, or Decentraland? Additionally, Floki has entered into many utility partnerships which allow holders to use their Floki to buy and sell various things, such as real estate through the Real Estate Empire Group partnership and tangible items from multiple vendors like Amazon through the Shopping.io partnership, just to name two.
Sure FLOKI has meme value, but what brand doesn't today? The Financial Times called into question meme tokens being "coulorful" and targeting a different market from other traditional financial products. Curious what their thoughts are on Geico and their Gecko mascot?
Simply put, Floki is here to stay. It does not matter how much the mainstream press attempts to stamp it out, the Floki fire will always remain. This is a movement that cannot and will not be stopped, especially by writers without the understanding of basic crypto fundamentals.
Website: http://www.floki.com
A link to the observer article can be found here: https://www.theguardian.com/technology/2021/nov/13/ban-ads-for-cryptocurrencies-at-stations-and-on-buses-tfl-urged