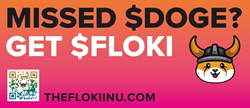 KANSAS CITY, Mo. (PRWEB) November 16, 2021
Reaching a combined view of 93m+, FLOKI's digital banner will feature prominently on the most premium positions on the pages of 12 major online news platforms, with readership profiles spread across finance, tech, news, business, and lifestyle. FLOKI has also partnered with the 16 most revered influencers who are well versed in the crypto space and have massive followings across Africa, to continuously drive top-of-mind awareness for Floki.
FLOKI's engagement in the Nigerian market further extends to partnering with the 4 most popular social media platform influencers. Daily reaching a combined number of 7M+ active followers, Instablog, Kraks TV, Zikoko, and Funny African Pix, will regularly drive massive awareness and visibility for Floki.
Finally, FLOKI has partnered with the biggest news platforms with over 62M readerships across the entire country. Throughout this period, they will drive and publish about FLOKI as well as drive awareness for its project over the next 3 months.
About Floki:
FLOKI was inspired by an Elon Musk tweet on June 25, 2021, where he stated that he will be naming his Shiba Inu Floki. Shortly after the tweet, an anonymous developer launched a token named FLOKI and a community quickly formed around it; the first developer went rogue, however, and abandoned the project. The current team initiated a community takeover and re-launched the project.
In just 4 months since the relaunch, FLOKI has grown to over 320,000 holders and is now the third biggest memecoin after DOGE and SHIB, has formed a partnership with Elon Musk's brother Kimbal Musk's project, the Million Gardens Movement, and sits comfortably at a market cap of over $2.0 billion. FLOKI also boasts ambassadors of its project such as Tyson Fury and SlumDoge Millionaire (aka ProTheDoge).
The FLOKI token will be the main utility token of FLOKI's NFT gaming metaverse Valhalla, FLOKI's NFT and merchandise store FlokiPlaces, and FLOKI's crypto education platform Inuversity.