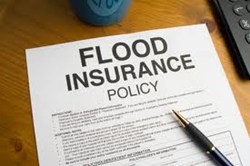 Getting an insurance policy with flood protection is highly recommended for all homeowners. Flooding can produce expensive damages that can lead to further issues like mold and other costs.
New Orleans, LA (PRWEB) August 02, 2013
It may come as a surprise to many homeowners, but floods are one of the number one natural disasters striking homes throughout the United States. Homeowners often see flood insurance as an unnecessary expense, but in fact, purchasing a good home insurance policy can save a great deal of money and heartache in case of future disaster. Flood damage can happen anywhere including areas of the country that are considered to be at a low or moderate risk for flooding.
SecuritySystemReviews.com, is a site that provides home security system reviews of the top home security system companies throughout the country. The site also provides information to homeowners about other safeguards against flooding, in particular flood sensors, which are available with many home security systems and home automation systems. Additionally, the site created a list of tips for homeowners to consider when purchasing flood insurance.
1. Before contacting any insurance agency providing flood insurance, a homeowner should find out if they qualify preferred risk policies, dependent on the particular area in which the homeowner resides. If a homeowner qualifies for this type of policy, it means premiums will be lower in cost because of location near a flood zone. Many state also require the purchase of flood insurance, so for residents of these states, flood insurance policies are often provided by the state, and these are generally the least expensive policy options.
2. Shop and compare policies online prior to contacting an agency. By shopping around online before ever talking to an actual company, a consumer will get a good idea of how much a policy will cost, which can prevent an agent from overselling a customer.
3. When looking at policies, be sure of all areas of coverage provided within the cost of the deductible. For example, some policies only cover the actual building, while other policies cover the structure and its contents. By knowing exactly what is covered before purchasing a policy, a homeowner can save a lot of future heartache.
4. A homeowner contemplating the purchase of flood insurance should contact their provider of auto and homeowners' insurance, because these companies will often offer customers deals for purchasing multiple policies.
5. Research the National Flood Insurance program. This government program provides flood insurance at prices that are often less expensive than private companies.
6. When purchasing a flood insurance policy, homeowners or renters should remember that most insurance policies require a 30 day waiting period before coverage becomes effective, so this is important to remember when planning to move into a new home.
About the Company
SecuritySystemReviews.com is a site providing comprehensive reviews and concise rankings of the best home security system companies in the country. In addition the site provides valuable tips on home security and security system information.