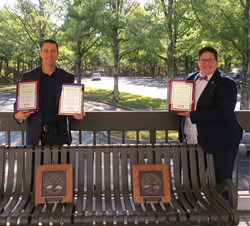 At Shaw, we take a holistic approach to design through a focus on material health, moisture prevention, sound abatement, indoor air quality and products that can help create a nurturing indoor environment. - Kellie Ballew, Vice President of Global Sustainability, Shaw Industries
DALTON, Ga. (PRWEB) October 08, 2020
Shaw Industries Group, Inc. (Shaw) recently earned several honors at Floor Covering Weekly's 11th annual GreenStep awards, which recognize the flooring industry's collective contributions to sustainability. Shaw received awards in five of the six categories, including top honors in the People and International categories and Honoree awards in Pinnacle, Product and Promotion categories.
"At Shaw, we take a holistic approach to design through a focus on material health, moisture prevention, sound abatement, indoor air quality and products that can help create a nurturing indoor environment," shared Kellie Ballew, vice president of global sustainability at Shaw. "Putting people at the center of our efforts, we're continuously focused on how we can create a better future -- for people AND the planet."
A summary of Shaw's efforts informing each win include:

International Winner for the company's participation and leadership in the UK-based, multinational ChemSec Business Group, offering its experience with product and process optimization using Cradle to Cradle principles around material health as a guidepost.
People Winner for the company's support of its associates, its communities and a commitment to overall health and wellness in response to the unprecedented circumstances of COVID-19.
Pinnacle Honoree for the company's commitment to helping create nurturing habitats through its focus on sustain[HUMAN]ability® and creating a better future for its customers, associates, the company and the communities in which it operates.
Product Honoree for its innovative, sustainable soft floor covering designed for the expo and trade show market, COMFOR3T™.
Promotion Honoree for its promotion of sustainable practices via the global sustain[HUMAN]ability® Leadership Recognition Program.
For more information on the GreenStep program and Shaw's wins, please read Floor Covering Weekly® magazine's coverage, including a virtual interview with Shaw leadership.
About Shaw Industries
Shaw Industries Group, Inc. is more than a flooring company – we are more than 20,000 people united in our vision of creating a better future for our customers, for our people, for our community and for our company. We provide carpet, resilient, hardwood, tile & stone, laminate, synthetic turf and other specialty items for residential and commercial markets worldwide. We meet diverse customer needs through an expansive portfolio of brands, including: Anderson Tuftex, COREtec, Patcraft, Philadelphia Commercial, Shaw Contract, Shaw Floors, Shaw Sports Turf, Southwest Greens, USFloors and more.
Headquartered in Dalton, Georgia, Shaw is a wholly owned subsidiary of Berkshire Hathaway with more than $6 billion in annual revenue and representation throughout the U.S., as well as in Australia, Belgium, Brazil, Canada, Chile, China, France, India, Mexico, Singapore, United Arab Emirates, and the United Kingdom. For more information about our company brands, operations and community involvement, or to join our industry-leading team, visit http://www.shawinc.com.