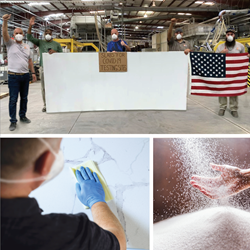 "The donation of our antimicrobial tables to local field hospitals was the least I could do!" states Andrea Di Giuseppe, CEO and Founder of TREND Group & RSG.
MIAMI (PRWEB) April 03, 2020
TREND Group & RockSolid Granit North America (RSG), along with their manufacturing partner E-Stone USA Corporation in Sebring, FL, introduce their antimicrobial blended etherium™ by E-Stone engineered stone surfaces made for commercial/residential construction and renovations.
Not since World War II has the world seen such a shift in how businesses function and produce products to combat a global threat such as the Coronavirus. However, always ahead of the curve, the vertically integrated TREND Group company comprised of a franchise system, manufacturing division, and sales organization, has spent 20 years dedicated to producing products that not only promote sustainability but also provide anti-bacterial benefits.
etherium™ by E-Stone surfaces are anti-microbial, non-porous and mold and mildew resistant which helps prevent the spread of germs. The newly enhanced antimicrobial agent now blended into etherium™ is taking germ and bacteria resistance to a heightened level which is now more important than ever. And it so happened that the testing and production that had already commenced at their E-Stone factory coincided with the Coronavirus pandemic.
TREND Group and RSG corporate offices are based in Miami, Florida. The companies quickly realized that the antimicrobial blended product they were producing could be of use to the medical community setting up field hospitals.
Taking 20 years of tradition, and a product that was readily available as it is made in America, the TREND Group/RSG teams sprung to action by donating antimicrobial etherium™ by E-Stone folding tables to local hospitals setting up field hospitals and COVID19 testing stations throughout Miami- Dade and Broward.
The unique, lightweight tables made with etherium® by E-Stone surfaces are made of a unique blend of reconstituted materials which are then mixed with an antimicrobial agent to help increase emergency response personnel and patient safety.
"Twenty years ago I came to the USA from Italy with a dream of opening a successful business and becoming an American citizen, and both of my dreams were realized. The Coronavirus pandemic has hit both my homes (ITALY & USA) in a devastating way and I'm determined to do my part. The donation of our antimicrobial tables to local field hospitals in Florida was the least I could do!" states Andrea Di Giuseppe, CEO and Founder of TREND Group & RSG.
Antimicrobial agents are used in numerous industries including the medical, consumer personal products, agricultural and industrial sectors. In the production of etherium™, the product provides an environment that helps prevent the growth of bacteria. Antimicrobial-treated surfaces can suppress the growth of microorganisms and limit the transmission of harmful bacteria. This helps reduce exposure to various germs lowering the risk for infection.
As the Coronavirus continues to evolve we anticipate that consumer confidence will only be attained through offering products with key benefits that are important today.
TREND Group and RSG believe etherium™ by E-Stone products will continue to find their way into homes, hospitals, and other commercial facilities and probably at an increasingly fast rate.
"We hope this donation effort with our local hospitals can play a part in coming together as a community to help us all through this challenging situation.", states Charlotte Russell, Global COO TREND Group & RSG.
About TREND Group:
Trend Group, parent company to RockSolid Granit North America Inc. , is a world leader in the production of colored glass, Venetian enamel, gold leaf tesserae, and engineered stone surfaces. With production and assembly facilities spanning four continents and more than 50 countries, TREND Group & RockSolid Granit North America Inc. are able to bring the highest quality materials from around the world into your home or business. For more information visit Trend-Group.com (https://www.trend-group.com)
About RockSolid Granit North America Inc.:
RockSolid Granit North America Inc. is the franchisor to Granite & Trend Transformations franchising system. The company has renovated more than 1 million customer homes. RockSolid Granit North America Inc was formed in 2000. For more information visit GraniteTransformations.com (https://www.granitetransformations.com)