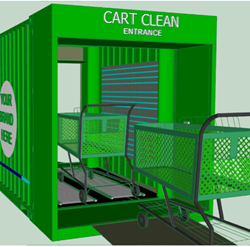 We know that companies are looking for additional ways to protect their employees and customers.
POMPANO BEACH, Fla. (PRWEB) August 04, 2020
As businesses strive to reopen, one company is offering a solution to help keep employees and customers safe. Florida based Lunasphere announced today the official launch of the Luna Cart Clean, a convenient, effective solution for disinfecting carts and baskets in major grocery and retail chains.
Bill Reicherter, CEO of Lunasphere said, "We know that companies are looking for additional ways to protect their employees and customers. We are honored to do our part through the technology and convenience of the Luna Cart Clean. I am proud of our team that has worked so hard to make this exciting new solution possible and that we are able to manufacture it right here in Southeast Florida."
The Luna Clean Cart by Lunasphere is a revolutionary disinfectant system designed for effectively kill viruses and micro bacterium. The key component of the Luna Cart Clean is the UV- C lights, which emit very short ultraviolet wavelengths from 100 to 280 nanometers that damages the DNA of bacteria, viruses, and other pathogens.
As retail companies across the country are taking on responsibility for the safety of both consumers and employees, the Luna Cart Clean will help provide them the tools necessary to do it effectively and affordably.
"I am so proud to come together with my Father to officially announce and share Luna Cart Clean by Lunasphere. With all of our products with Lunasphere we are looking for innovative ways to keep customers and employees safe, and happy to help our customers do just that," said Francesca Reicherter, President of Lunasphere.
Across the nation stores are doing their best to keep germs at bay by having their employees sit outside and wipe down every shopping cart and basket that is used. Employees spray disinfectant and wipe down every cart and basket with the same rags repeatedly. Chances are they are unknowingly not only missing most of the areas but also contaminating their employees in the process.
The Luna Cart Clean eliminates this by sending the carts through a quick sanitizing tunnel that sanitize carts thoroughly. The Luna Cart Clean system uses UV-C lights to kill 99.9% of germs and bacteria while eliminating the additional labor efforts and risk to employees, saving retailers both time and money and most importantly an added layer of protection agains dangerous viruses and bacteria.
About Lunasphere:
Lunasphere is a family owned and operated business, established when a father and daughter came together to develop a solution to the invisible germs and bacteria being spread through interaction with everyday items. A percentage of all Lunasphere proceeds are donated to the Inspiring My Generation Foundation, a Florida Non-Profit founded by Lunasphere President Francesca Reicherter that focuses on promoting mental health awareness, mental wellness, and expanded treatment options. For more information on the Luna visit http://www.theLunasphere.com.