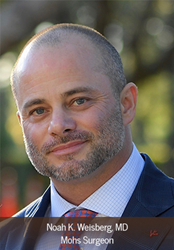 JUPITER, Fla. (PRWEB) November 04, 2020
Dr. Noah Weisberg of Skin Cancer Care Specialists has been named a Top Doctor of 2020 by Jupiter Magazine under the Dermatology category – an honor bestowed to only three Palm Beach County dermatologists this year. The Top Doctor honors are published each Summer by Jupiter Magazine, offering residents guidance for the best medical care in the region.
Dr. Weisberg is one of only a few fellowshipped trained Mohs surgeons and dermatologists practicing in Jupiter, Fla. who have successfully completed a full Mohs fellowship accredited by the American College of Mohs Surgery. In practice for more than 18 years, Dr. Weisberg has treated more than 28,000 skin cancers along with physician assistants Kathryn Goggins, PA-C, and Barbara Acosta, PA-C. Together, they specialize in the diagnosis and treatment of a broad range of skin lesions including basal cell carcinoma, squamous cell carcinoma and various other dermatologic issues.
"I'm beyond proud to be recognized by Jupiter Magazine in this year's list of Top Doctors," said Dr. Weisberg. "Together with my team, we strive to provide unmatched care and services that put our patients at ease and demonstrate that they're in the most capable hands. It's a great compliment for our efforts to be recognized by such a prestigious magazine."
The medical staff at Skin Cancer Care Specialists is committed to providing the best dermatology and skin cancer treatment options for patients in Jupiter, Palm Beach, West Palm Beach, Palm Beach Gardens, Tequesta, Hobe Sound, Stuart and other surrounding areas using the latest technology in skin cancer and dermatologic care.
The Top Doctors of Jupiter Magazine are selected by Castle Connolly, a healthcare research and information company founded in 1991 by a former medical college president who wanted to help consumers discover America's top doctors and hospitals. Selections are made based on exhaustive research conducted by Castle Connolly's physician-led team, with careful screening of a nominee's education, professional experience and expertise.
Dr. Weisberg's Jupiter Magazine feature can be viewed on their website. To schedule a skin cancer screening or dermatology consultation with Dr. Weisberg, Kathryn Goggins, PA-C or Barbara Acosta, PA-C, call 561-775-6011.