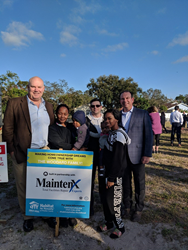 MaintenX employees will volunteer at least 200 hours to help ensure the house is ready for move-in in May.
TAMPA, Fla. (PRWEB) January 16, 2019
MaintenX helped Habitat for Humanity of Pinellas County break ground on a new home yesterday. In addition to monetarily sponsoring the home, MaintenX employees will volunteer at least 200 hours to help ensure the house is ready for move-in in May.
The house will be home to Latrivette Woodard, her three children and two grandchildren. Woodard is thrilled to be accomplishing a goal she never dreamed was possible – home ownership.
"MaintenX is thrilled to sponsor the Woodard family," said Bill Schaphorst, MaintenX's VP of Business Development. "Being a part of the groundbreaking ceremony really helps reinforce our commitment to Habitat for Humanity and the Tampa Bay region. It's days like this that really show what a difference a company can make when they invest in their community."
The groundbreaking ceremony featured local Habitat for Humanity leadership, as well as representatives from other companies helping to sponsor homes in the area.
The MaintenX team is well-suited to the volunteer work required to complete a Habitat for Humanity home. For nearly four decades, MaintenX technicians have been providing superior reactive and preventative maintenance to facility managers across the country.
"Our technicians are excited to put their plumbing, HVAC, roofing and repair skills to work in the Habitat house," said Schaphorst.
MaintenX is committed to their customers and their community. To learn more about MaintenX and the services they provide, visit http://www.maintenx.com.
ABOUT MAINTENX INTERNATIONAL:
MaintenX International is a fully licensed, facilities repair company. As one of the largest national self-performing facility maintenance and repair companies in the U.S., MaintenX has created a wide network of knowledgeable and professional technicians throughout the country. With their team of well-trained technicians, MaintenX self-performs and manages facility maintenance for their clients. In the event there is not a MaintenX technician in an area, the company has established a network of preferred vendor partners throughout the country for continued superior service for their clients. For more than 37 years, MaintenX has been expertly serving multi-location retail stores, restaurant chains and Fortune 500 companies nationwide.