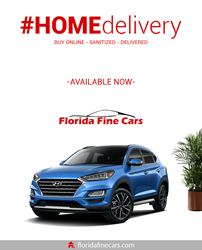 Miami, FL (PRWEB) April 20, 2020
Skip the showroom altogether and buy a car online with a completely touchless, streamlined purchase process including home delivery. On Monday April 20th, 2020 Florida Fine Cars announced continuing availability of their online car buying and delivery service. Florida Fine Cars aims to make it easy to purchase and receive a sanitized vehicle.
"The health of our employees and community is the highest priority during this time. We will continue to provide full service to your home with our Touch-Less Online Purchase and Home Delivery while we close our physical properties in an effort to help flatten the curve," said Jamie Suid, Director of Marketing at Florida Fine Cars.
Many customers have already benefited since the online car buying and delivery became available on the Florida Fine Cars website since January. Richard P, a returning customer, recently found his latest vehicle through the online car buying and deliver portal featured on floridafinecars.com.
"I worked the entire deal using text messages, email, and a few phone calls to fine tune the details," said Richard P. "The vehicle was timely delivered on a flatbed truck, every step was streamlined."
The process is straightforward and includes:

Online vehicle purchasing with a live assistant
Full concierge over the phone purchase
Full detail and sanitizing of the new vehicle
Delivery to the customer's home (100% free within Florida)
3 Days Money Back Guarantee or 5 days Exchange policy
Online car buying and delivery is available on the Florida Fine Cars website. Florida Fine Cars is committed to deliver the latest products and updates to their customers. For more information on the online car buying and delivery process or to browse the full inventory, please visit: floridafinecars.com
Florida Fine Cars was founded in 1993 and has positioned itself as a premier used car dealership in the South Florida Market. Providing quality used cars at affordable prices, while treating customers to the very best experience has been vital to the company's growth. Florida Fine Cars understand that quality in products along with customer service are key in being a good business.
Florida Fine Cars and online car buying and delivery are either registered trademarks or trademarks of Florida Fine Cars in the United States and/or other countries. The names of actual companies and product mentioned herein may be the trademarks of their respective owners.
For more information on online car buying and delivery:
Visit:
Floridafinecars.com