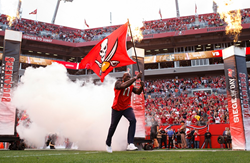 TAMPA, Fla. (PRWEB) August 03, 2018
Florida Hospital, the Exclusive Hospital of the Tampa Bay Buccaneers, is excited to partner with WWE Superstar and Tampa Bay philanthropist Thaddeus Bullard, aka WWE Superstar Titus O'Neil, to present the biggest 'Back to School Bash' in the region on Saturday, August 4, 2018 at Raymond James Stadium. The event runs 8:01 a.m. - 2:01 p.m. This free event is open to the public but on-site registration is required.
Florida Hospital will provide free physicals for students and free health screenings for parents. In addition, The Glazer Family Foundation Vision Program will provide free eye exams and limited number of eyeglasses for youth who climb aboard the Bucs Vision Mobile. The Bullard Family Foundation, with the help of the Hillsborough County Education Foundation, will provide free haircuts, dental cleanings and more than 15,000 book bags stocked with school supplies for students.
"The Back to School Bash provides a tremendous opportunity for Florida Hospital to partner with the Tampa Bay Buccaneers and the Bullard Family Foundation to elevate the health and wellness of our community," said Lauren Key, Senior Executive Officer of Consumer Strategy, Florida Hospital, West Florida Division of Adventist Health System. "We will have over 100 medical providers, nurses and support staff volunteering on Saturday to help children get a healthy start to the school year."
"Growing up, my mother could not afford adequate school supplies and my eye glasses were held together with tape," said Thaddeus Bullard aka WWE Superstar Titus O'Neil of the Bullard Family Foundation. "I have personally witnessed the impact a person can have on a child when someone shows that they care, and I am a product of that care. The Back to School Bash is exciting because of all the wonderful partners who are joining hands to support not only our students, but the dedicated teachers who give so much every day."
Bullard noted that the event's "01" start and end times (8:01 a.m. – 2:01 p.m.) are symbolic to supporting unity and coming together as ONE for change.
"The Tampa Bay Buccaneers have always supported youth in our community, said Nikki Donofrio Vice President of Marketing and Corporate Partnership for the Tampa Bay Buccaneers. "As part of this ongoing commitment, we are proud to join our community partners to break down barriers, so students can become lifelong learners and ensure children are provided the opportunity to get physicals to play sports, receive necessary school supplies or have their vision screened courtesy of the Glazer Family Foundation."
Kids attending can also test their football skills inside the Buccaneers Kid Zone, meet Captain Fear and his friend from the Tampa Bay Rays, mascot DJ Kitty and the Tampa Bay Buccaneers Cheerleaders. Free food will be provided by local churches, area restaurants and the refreshing treat, Dippin' Dots.
About Florida Hospital
Florida Hospital is a not-for-profit, leading healthcare system comprised of more than two dozen hospitals throughout the state. It is a member of the Adventist Health System, which operates nearly 50 hospital campuses and hundreds of care sites in diverse markets throughout almost a dozen states and serves more than five million patients annually. For more information visit FloridaHospital.com.
About Bullard Family Foundation
The Bullard Family Foundation, founded by Thaddeus Bullard (aka WWE Superstar Titus O'Neil), provides families and children everywhere with moments, programs, and resources to help build character and community and spark transformational change for those in need.
About Tampa Bay Buccaneers
Tampa Bay Buccaneers players, coaches, cheerleaders, legends, and staff play an active role in community improvement through a variety of youth health and education initiatives, family outreach, and military support. Innovative partnerships with local nonprofit organizations provide assistance to thousands of Central Florida residents each year. Glazer Family Foundation initiatives including the Glazer Family Foundation Vision Mobile and the Glazer Children's Museum continue to enhance learning opportunities for Bay Area youths. To learn more about the organization's commitment to making Tampa Bay better today and for generations to come, visit Buccaneers.com/community.