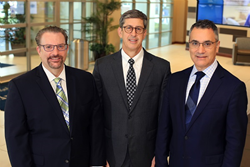 TAMPA, Fla. (PRWEB) October 25, 2018
Florida Hospital Tampa is now home to the newly-named Florida Hospital Tampa Bariatric & Metabolic Institute (BMI). Michel Murr, MD and John Paul Gonzalvo, DO, join John Dietrick, MD to provide exceptional, whole-person care through a comprehensive, patient-centered approach to clinical weight loss and management at the new practice. This newly formed practice creates the most experienced bariatric practice in the Tampa Bay area.
The newly-formed practice specializes in adult weight loss surgery, including the gastric bypass, the sleeve gastrectomy, and revisional bariatric surgery. They also provide innovative surgery using advanced laparoscopic techniques and the da Vinci Robot system to improve patient outcomes. The practice will add adolescent weight loss surgery and a medical weight management program in the coming months.
Obesity and its related health risks have long been listed among the top of local, state and national chronic disease and behavioral risk factors.
"Obesity is linked to so many life-threatening conditions and diagnoses, such as high blood pressure, heart disease and failure, gall bladder disease, osteoarthritis, depression and more," says Dr. John Dietrick. "I'm confident that our new team is positioned to leverage the best clinical and surgical expertise, technology, and resources to weight loss solutions that help put our patients on track to a healthier life."
The practice will also house a highly specialized team of psychologists, dieticians, advanced practitioners, and fellows for expert patient care. Additionally, BMI patients will have access to a large network of care at Florida Hospital Tampa, including Pepin Heart Institute, Orthopedic Care Center, Sleep Center, Digestive Health Institute, and the Diabetes Education Center.
For patients looking for more information on the Florida Hospital Tampa Bariatric & Metabolic Institute, please visit TampaBMI.com or call at (813) 971-2470.
About Florida Hospital, West Florida Division of Adventist Health System (soon to be AdventHealth)
The West Florida Division of Adventist Health System is a 1,810 bed health care system currently comprised of ten acute-care hospitals including Florida Hospital Carrollwood, Florida Hospital Dade City, Florida Hospital Heartland Medical Center Lake Placid, Florida Hospital Heartland Medical Center Sebring, Florida Hospital North Pinellas, Florida Hospital Ocala, Florida Hospital Tampa, Florida Hospital Wauchula, Florida Hospital Wesley Chapel and Florida Hospital Zephyrhills, as well as three freestanding offsite Emergency Rooms including Florida Hospital Central Pasco ER, Florida Hospital Palm Harbor ER and Florida Hospital TimberRidge ER. Additionally, it has one post-acute care facility, Florida Hospital at Connerton Long Term Acute Care, over 45 multi-specialty Florida Hospital Physician Group practices, 15 Florida Hospital Express Care at Walgreens clinics and 6 Florida Hospital Centra Care Urgent Care Centers. The West Florida Division also provides home health care in Hillsborough, Pasco, Pinellas, Hernando, and Polk Counties, as well as parts of Sumter County. For more information, go to floridahospital.com.
About Florida Hospital Tampa
Florida Hospital Tampa is a not-for-profit 536-bed tertiary hospital specializing in Digestive Health, Cardiovascular Medicine, Neuroscience, Orthopedics, Women's Services, Pediatrics, Oncology, Endocrinology, Bariatrics, Wound Healing, Sleep Medicine and General Surgery, including minimally invasive and robotic-assisted procedures. Also located at Florida Hospital Tampa is the renowned Florida Hospital Pepin Heart Institute, a recognized leader in cardiovascular disease prevention, diagnosis, treatment and leading-edge research. The recent addition of the Doc1st ER shows that Florida Hospital Tampa is committed to providing compassionate and quality healthcare. Part of the Adventist Health System, Florida Hospital is a leading health network comprised of 26 hospitals throughout the state. For more information, visit http://www.FHTampa.org.