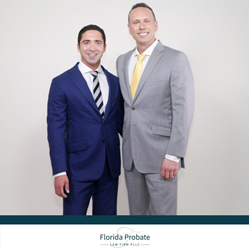 "We are confident in our ability to handle probate administrations electronically, and we can use that to not only keep clients safe, but also expedite their case." —Tommy R. Walser, founding partner at Florida Probate Law Firm
BOCA RATON, Fla. (PRWEB) May 19, 2021
Florida Probate Law Firm is proud to offer a technology-based approach to processing and resolving probate cases throughout the state of Florida. As one of the states with the highest elderly populations in the country, Florida and its residents have a substantial need for convenient and timely legal services. Florida Probate Law Firm has been able to provide virtual assistance to its clients for a long time, but the COVID-19 pandemic confirmed the need for an electronic approach that prioritizes client safety and security.
"It is important to us that our clients—especially in times of great uncertainty—feel comfortable and in control of their probate process," said Tommy R. Walser, founding partner at Florida Probate Law Firm. "We are confident in our ability to handle probate administrations electronically, and we can use that to not only keep clients safe, but also expedite their case."
The electronic probate services that Florida Probate Law Firm provide range from sending pleadings to the client for signature to e-filing with courts throughout the state of Florida. Free virtual consultations are available from the outset, and clients with questions at any stage of the process are easily able to contact their probate attorney for a rapid response.
The technology-based approach of the firm not only offers convenience, but also incredible speed. Once retained, the firm can prepare and send out pleadings in as little as 24 hours, while new clients can open an estate in as little as three following the initial consultation. The firm also has quick turnover assistance for those seeking to sell real estate going through the probate process, with most homes selling within a one- or two-month window.
The attorneys of Florida Probate Law Firm are ready to help at a moment's notice with any component of the probate process, including, but not limited to:

Inheritance
Estate Tax Returns
Creditor Claims
Asset Transfer
Trust Administration
Estate Administration
About Florida Probate Law Firm, PLLC
Florida Probate Law Firm, PLLC provides formal probate administration, ancillary probate administration, probate litigation, and professional executor services in all 67 counties across the state of Florida. Their goal is to provide clients with individualized, affordable, and timely service to help meet their clients' unique needs.
Contact Info:
Name: Thomas R. Walser, Esq.
Phone: (561) 210-5500
Email: info@floridaprobatefirm.com For more information, please visit https://www.floridaprobatefirm.com