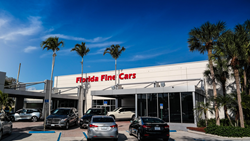 Florida Fine Cars is proud to support this incredible music program which provides hundreds of students an amazing opportunity to perform
WEST PALM BEACH, FL (PRWEB) May 04, 2017
Florida Fine Cars of West Palm Beach is helping a popular youth choral group cover essential costs so the children of economically-challenged families can participate.
Young Singers of the Palm Beaches serves 350 students in grades 2 to 12 from Jupiter to West Boca from 100 different schools. Members of the impressive singing group will take the stage on May 6th at the Kravis Center to perform "An American Tapestry," featuring a variety of American genres.
Florida Fine Cars learned of the group from a customer and was impressed with the group's mission and talent.
"Florida Fine Cars is proud to support this incredible music program which provides hundreds of students an amazing opportunity to perform and be part of a group," said Jamie Suid, Florida Fine Cars' marketing director. "As a father of two children myself, I love how this program taps into the kids' talent and showcases their abilities in a way that builds confidence and character."
Students participate in two major concerts a year as well as smaller concerts at a variety of venues such as the Flagler Museum.
"The main thing they get out of it is the experience of coming together and singing and learning other skills that go along with singing -- commitment and the ability to socialize with others," said Shawn Berry, the group's artistic director and founder.
Young Singers will perform a piece by the late, great Irving Berlin, a tribute to Judy Garland and catchy numbers from the Broadway hits "Hairspray" and "Hamilton" on May 6th.
Jene Rhoads of West Palm Beach said the group has provided incredible experiences for her two young daughters, ages 8 and 11.
"This is the one time I find that things slow down and they focus on the very peaceful, joyful art of singing," Rhoads said. "It's very emotional."
The financial support provided by businesses like Florida Fine Cars helps cover students' tuition, costumes or anything else they need assistance with.